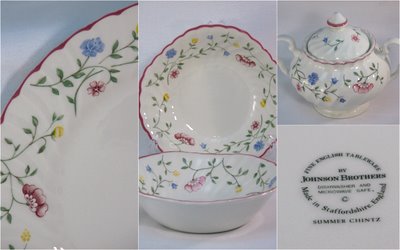 Enjoying china has one downside: It can be difficult to choose one pattern to be your own. If you love them all, how do you choose?
Eventually Summer Chintz by Johnson Brothers became my everyday contemporary china.
This dinnerware was made for more than 20 years, and there are many pieces to add to this collection, including rimmed and coupe bowls, square and round, pieces with the pattern in the rim, and others that have it all over. The plates were made in seven sizes.
That makes it practical to use for serving a variety of foods, and for many different events. It can dress up or dress down as the occasion requires. It works as well for every day, for a Mother's Day dinner, a wedding party, or many other events.
Chintz is a popular inspiration for china because if the charming floral motif. One of the appeals of this pattern is the pleasing colors. It can mix with a blue, pink, yellow, green or white palette. I especially like this feature. It goes with vintage china patterns, and that was a must.
The opportunities for creative table setting ideas using this china as the start are endless.
Sweet!




by