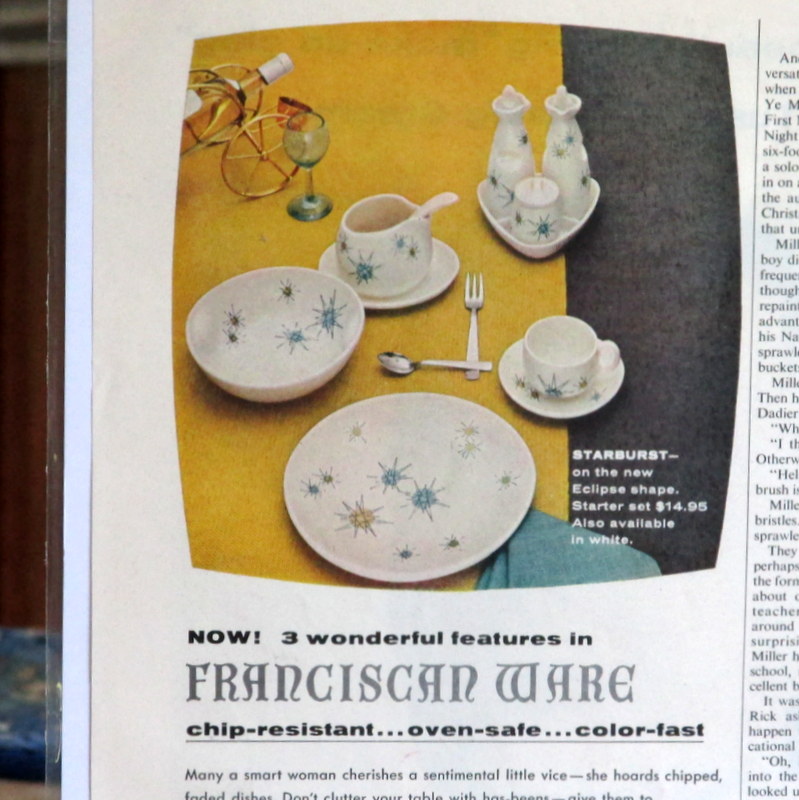 I'm looking for a few pieces of the Starburst pattern to add to my collection. This is vintage dinnerware from the 1950s and 1960s, with an "atomic" star motif.
Think Space Age, Mid-Century Modern, and Mad Men.
The shapes are a bit of a twist: not quite round plates and triangular for the tray that holds the salt and pepper shakers.
So far, I've purchased a vintage magazine ad from a ladies publication of the time. It shows off the china in a contemporary table setting.
This ware was made for about 12 years, between the mid-50s and mid-60s. Yet in all my years looking for dishes, I've never purchased a piece of this pattern.
That's about to change.
I Want Some Starburst of My Own
When I find my pieces, I'll be checking them carefully for chips and crazing. Though this ware was made to high standards of the time, it's now about 60 years old. It could be a challenge to find perfect pieces, but everything is out there to find, with enough time and looking.
I like to use my vintage china, so I'm aiming for a set of bread or salad plates that I can show off for desserts. If I find a serving piece in good condition, that would be a bonus.
Starburst looks to be pretty popular in secondary markets, and I believe that's due to its classy design from the middle of the last century.
It may sound old to talk about it in those terms. But Starburst by Franciscan is modern all the way, then and now.
Update: I found some! Take a look here to read more about them.




by