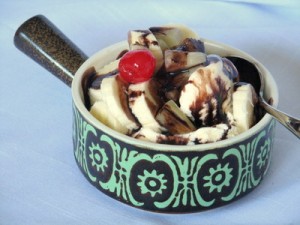 When the weather turns colder, I get a hankering for ice cream. Go figure. Then I found a funky, 1970s soup mug and inspiration arrived.
The dish is probably USA or Japan made, but there is no maker's mark. It just screams retro, both from the motif and the colors. I was in a home just this week where, when you walked into the family room, you went back about 35 years. It was a wonderful experience.
The sundae is banana and pineapple, with dark chocolate sauce and a maraschino cherry for color. No strawberries, or it could have been a banana split.
Repurposing your favorite dishes is so much fun. I'll keep this soup mug for chili, goulash and ice cream!




by