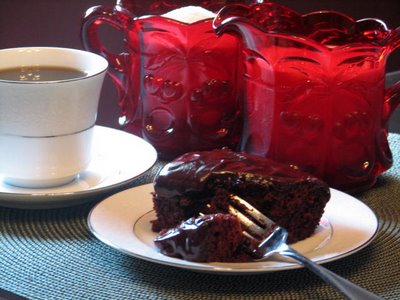 Bag two birds with one stone: eat at home more, and enjoy an easy to make, moist chocolate cake at the same time. How can you go wrong?
Baking at home can help you save money, eat healthier because you control the ingredients, and provide a chance to experiment and tweak recipes to suit your situation.
If cake is a family favorite, learning to bake a simple snack cake can be a good place to start.
Follow the link to the recipe for my favorite chocolate cake recipe, which also includes an easy cooked chocolate frosting. Make this in a 9x9 square pan. You can even mix up the cake in the pan, if you wish.
If you have another favorite, such as coconut or spice cake, there are plenty of online recipe sites and videos available to help you get comfortable before you ever go into the kitchen. Gain experience by starting with a simple recipe and those resources will help you become an accomplished home cook.
Any cake that is made as one layer in a pan can be considered a snack cake.
These are handy to make for after-school treats, sack lunches and for casual parties or dinners
The techniques are simple, and the ingredients list is relatively short, using mostly standard pantry items.
Snack cakes can usually be made ahead to help smooth out event planning.
By starting out with something that is easy, you can learn by cooking, and you get to eat the tasty results. Once you have baked a few recipes, you will be better able to evaluate each new recipe you are considering, and decide whether it is something you want to make.
How to serve snack cake
Use your vintage dessert plates, or salad plates. Any plate that is in the 7 to 9 inch range works well, depending on the size of your cake slices, and whether you will serve it with ice cream or not.
Plan to add ice cream for birthday parties, showers and similar events. A coupe shape plate (smooth with slightly raised sides), or even a shallow soup bowl, works well to keep any melted ice cream on the dish.
Dress up this cake for a more formal event by cutting the pieces smaller and serving on fine china bread plates in the 4.5 to 6 inch diameter range. An edible flower or small decoration in the frosting (perhaps one that picks up the colors or motif of the china) adds a special touch for a tea party or shower.
Snack cakes are easy to whip up anytime for a quick dessert. Learning to bake can be even more fun when you enjoy the delicious results along with family and friends.




by