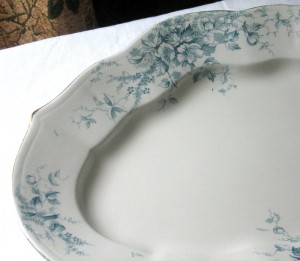 I'm a longtime fan of the design style called shabby chic. Whether you call it vintage, mix and match or romantic, this is a lovely way to set your table and decorate your home.
There are many, many vintage dinnerware patterns that fit into this style.
I remember watching Rachel Ashwell on one of the cable home channels more than 10 years ago. She is a well-known English designer, creator of the shabby chic style, and author of several books on decorating in this style. She has a new book coming out this fall,  Shabby Chic Inspirations and Beautiful Places
.
What I love about the style is its eclectic nature. Mix and match things you love, use them along with other dinnerware piece types that you might need to pull off the meal or the party.
Beautiful things don't have to match, just harmonize. Their beauty comes from their variety and diversity.
Here are the elements that I associate with shabby chic:
Light colors, pastels and white
Natural materials, such as china (made from the earth), cotton, linen and metal (such as silverplate flatware)
Design elements from nature, flowers, grasses, trees, leaves, fruits and vegetables
Casual tone, because the soft and comfortable feel of the look is relaxing and soothing
I also appreciate that this style allows for using pieces that are less than perfect. Dinnerware, for example, if you have a piece with a few chips in an area that doesn't come into contact with food, those are fine. Gold or platinum edges that show wear just mean you have a piece that's being used and loved.
Even cracked or crazed pieces can work in a table setting. They should not be used with food, but can be part of a centerpiece, a platform for candles, or similar uses.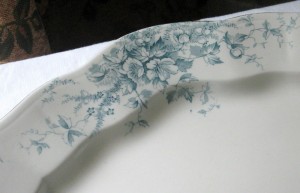 The photo shows an example. This antique platter in the Cluny pattern by Colonial Pottery in England would look charming in a vintage table setting. The pale color scheme with light blue transfer motif, as well as the a floral and fruit motif, make this English china a perfect fit for shabby chic decor.
There are many vintage china patterns to complement this kind of theme for any event, including weddings, birthday parties, anniversary parties and other special occasions. I'm seeing more and more coverage of design ideas that feature vintage weddings in particular, and I'll write about some of them in future posts.
Shabby chic has never left us. Pretty and beautiful things, used well and enjoyed, never go out of style.




by