As we head quickly into fall, I'm planning for the holiday recipes I will be making for guests and gifts. One more list to make and check twice. And I'm looking for new foods to try as well.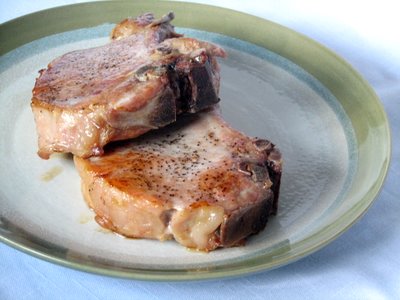 I found a recipe for cooking thick pork chops on the Cook's Country television show.
As soon as I saw the demo, I knew I wanted to know how to make this recipe.
The chops are salted, then roasted at low temperature, and finished in a skillet. One round of practice, and more to come. (Someone has to taste test this new recipe in my repertoire...)
As for serving these chops, I know I have the platters to use.
Every old and new recipe needs to be served. Now is a good time to test new recipes, and line up your serving pieces. If there's anything you need, there's plenty of time to shop for them.
Round china platters (also called chop platters) are useful to serve slices of roast meat, ham or fried chicken. You can also pile them with cookies, cupcakes and pastries. They are also good as a base for a large Bundt cake or even a gingerbread house.
Relish dishes, in glass or porcelain, are handy for pickles, olives and other small, savory accompaniments. Growing up in the Midwest, we always had pickles on the table at the holidays.
Trays and baskets are great for serving baked goods like dinner rolls, nut breads or crackers. Whether you are into whole wheat, alternative grains or gluten free goods, breads and rolls on your holiday menu add to a well-rounded menu for your guests.
Your creativity is really your only limitation when it comes to the serving pieces you include in your table setting.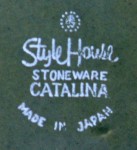 Browsing for new recipes -- and new serving pieces to show off these foods -- is one more way to get ahead on your holiday entertaining, and have a good time doing it!
About the platter: Catalina by Style House, stoneware chop plate.




by