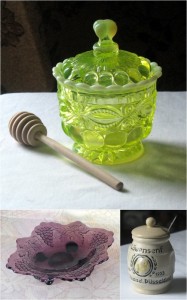 This harvest season, serve jam in style, whether you made it yourself, found it at a local farm market, or enjoy the products of your favorite commercial maker.
Glass jam jars are pretty to use for serving jelly and honey, too. These are making a comeback on home breakfast and dinner tables, as people do more home preserving. Making your own jam is an easy way to learn these skills, as well as to control the contents of your food.
Jam jars with tops can hold a family-size quantity of beautiful fruit jam, jelly or honey. Open style jam serving dishes will display tasty spreads more easily for all to see. These double as dishes for candies, nuts or mints, too, depending on your event.
And, if you're enjoying some savory sausages or brats – another feature of the harvest season, homemade or otherwise – small ceramic mustard pots will help you serve that, too.  Mustard is another specialty item that goes well with certain hearty fall foods.
Some examples in the photo:
Jam or honey jar in the Eye Winker pattern by Mosser, This is a detailed, Victorian-era pattern. The Vaseline color is a yellow-green, with opal glass edges. The wooden server works well for honey. If you're serving jam or jelly, a teaspoon will do a good job of letting everyone help themselves.
Open jam dish in the Grape and Cable pattern, also by Mosser, amethyst color. This kind of dish is nice to show off jams with lots of fruit (such as your homemade specialties), all kinds of marmalade -- or use for grape jam to go with the motif.
Mustard jar, Loewensenf from Germany. Smaller than the jam jar, holds about four ounces. A little spicy mustard goes a long way! (The mustard is still made, available in specialty groceries or online.)
Serve jam in style, and enjoy the fruits of the season, along with slices of bread, toast, English muffins, or anything that tastes good with spreads.




by