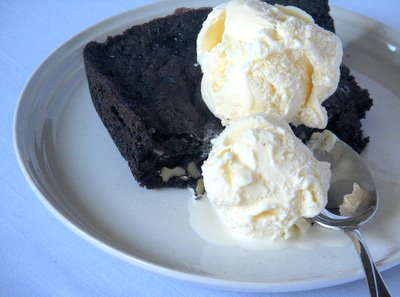 I like a good brownie, like most people. I favor the fudgy and chewy end of the spectrum as compared to the cake-like brownies. Just personal preference.
I also like dark chocolate, and when Hershey's Special Dark came out with cocoa in the baking section, I grabbed it.
Now I'm planning for holiday baking and gifts later in the year, and testing some recipes. A good brownie recipe meets dark cocoa: someone had to taste test this!
As for serving a brownie, especially with a side of ice cream, plates for salad or dessert work well. I chose a vintage china plate in the Snow White pattern by Mikasa. These plates have a coupe shape, with sides to help keep the crumbs and ice cream in place.
Like any other good dessert, warm homemade brownies won't last long.
White dinnerware is classic, easy to mix and match with other china. This particular Mikasa china pattern is from its Couture line, in casual stoneware. You can easily dress up or dress down this pattern. It is also a good choice for buffets, game-day parties or everyday dinners.
Favorite Brownie Recipe
1/2 cup all-purpose flour
1/3 cup unsweetened cocoa powder (your favorite)
1/4 teaspoon salt
1/4 teaspoon baking powder
1/2 cup butter, softened
1 cup white sugar
2 large eggs
1 teaspoon vanilla extract
1/2 cup chopped walnuts, if desired
Use an 8x8 inch baking dish, buttered on the bottom, or prepared with baking spray.
Preheat oven to 350 degrees.
Mix dry ingredients in a medium bowl. Set aside.
In a mixing bowl, use a hand mixer to cream butter and sugar until light and fluffy. Add eggs and mix well. Then add vanilla.
If using nuts, mix them in with the dry ingredients.
Fold dry ingredients into the creamed mixture, until smooth and chocolate is evenly distributed.
Gently spread batter in the baking dish with a spatula or large spoon. It will be thick. Bake 25-30 minutes. Do not over bake. Allow brownies to cool before cutting.
There are lots of good brownie recipes to suit your taste. I find it doesn't take that much more effort to make brownies from scratch, compared to using a boxed mix, and I've been happier with the results.
Your imagination is your best guide, whether making brownies or setting a table with vintage dinnerware!




by