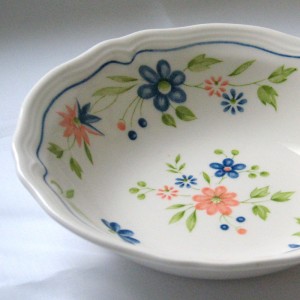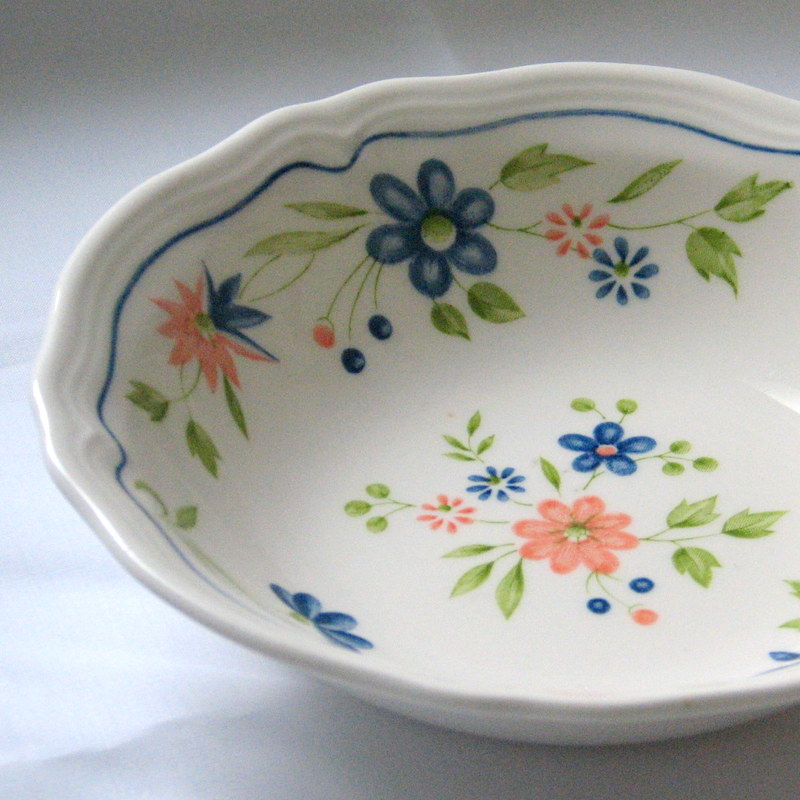 Someone asked me about a replacement pattern for Federalist china, produced by Sears in the late 1960s and 1970s. This traditional white dinnerware remains sought-after by its tenacious fans, all these years later.
Specifically, the plain white Federalist, though this china was also produced in a few solid colors.
I've been looking in all my thrift store travels for months, and have not found so much as a cracked cup or chipped saucer. I guess I shouldn't be surprised.
The only thing I did find, shown here, is a single soup bowl in the Country French pattern, which is the same shape as Federalist, decorated with flowers on the white background. I don't' think I've ever come across this pattern, in my many years of thrift store and garage sale hunting.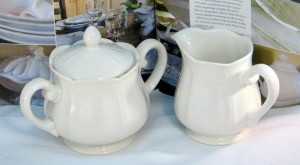 As for a replacement for Federalist, I haven't found one that I am really excited about. It would take a pattern that I think could blend well with Federalist, that could be used in the same table setting and not feel like an error.
Of course, this IS hard to test without some actual pieces to put side by side. Candidate china patterns I could think of, are also discontinued.
Fiesta might work as far as color - it wouldn't match, but it might harmonize as for color. But the same is all wrong, to my eye. Fiesta has a deco vibe, not traditional.
That said, I've seen a couple of Mikasa patterns – Antique White and Country French – that MIGHT fit a similar sensibility of shape and color. I think you would want to test with your Federalist set, and see how you like it.
Unfortunately, I don't think that Federalist has any hope of being brought back, like Fiesta was for its fans. The style trends these days lead in more sleek, modern directions, as compared to the traditional Americana shapes and styles.
My best advice to Federalist fans: Make use of every avenue you have to acquire this dinnerware in the secondary marketplace, both in online venues and on the ground.
One day you may hit the jackpot at an estate sale or country auction. And, you may want to start shopping for a second, contrasting pattern, that will mix with your white Federalist, based on the colors you have, and the overall design of your home.




by