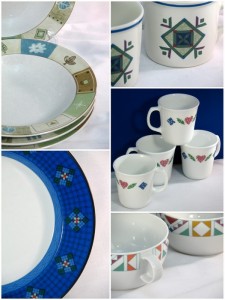 You don't have to be using a country theme table setting to enjoy quilt motif dinnerware. But you could!
A table setting based on a quilt theme can reach into classic and traditional themes based on Early American styles. Or it can harmonize with modern designs, in sleek shapes and stylish colors.
It can be subtle, or full of bold color.
There are dinnerware patterns that draw directly from quilt patterns any quilter will recognize. Inspiration to mix and match with table linens and complementary china dinnerware sets, to make a memorable table setting.
Birthday party for a quilter, for example?
Gallery of Quilt Motif Dinnerware
Top to bottom, left column then right column
Country Quilt by Mikasa, casual china with patch motifs that feature flower and leaf motifs. The colors let this work with many tableware color themes
Nine Patch by Dansk, dates from the mid 1990s, bold blue motif on the rims, white in the center. Blue and white dinnerware is always popular. This one would add extra pizzazz to that color theme
Catskills by Studio Nova, stoneware with motif in red, green and blue. Lots of scope for mix and match color. This would be fun with a Christmas theme as well
Quilt by Corelle, dates from 1994, stencil motifs in red and blue on white. Always practical and pretty, and how sweet for the everyday dinnerware of the quilter on your list (or your own)
Metrico by Thomas, dates from 1995, quilt motif in soft, warm colors on white. Hard to find dinnerware in sleek classic lines. The colors can blend with your table setting, or add a subtle color pop
These are just a few of the quilt motif dinnerware pieces to be found when you seek out dishes in the secondary marketplaces. They offer lots of possibilities for mix and match table setting enjoyment!




by