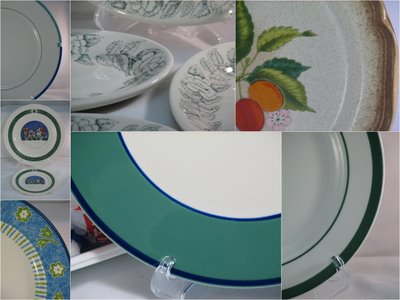 Dinnerware sets include various plate sizes for various uses, taking their names from the foods they are commonly used to serve. Bread, salad or dinner plates are just some of the possibilities.
Names for different sizes vary between manufacturers, or even within the product lines of a single manufacturer over time. Diameter alone will not tell for sure what name a particular manufacturer is using for a specific piece in a particular pattern or product line.
Bread plates are usually the smallest size. These are used for dinner rolls or pieces of bread at the place setting. Diners can put butter on it as well, as the butter dish passes.
They are often made in the 4.5 inch to 6 inch range, but there can be exceptions. This china is also practical to use for serving small desserts like tiramisu or petits fours.
Some vintage china patterns include even smaller pieces called butter pats, intended to place individual butter slices or fancy piped butter shapes at individual place settings.
Salad plates generally are in the 6 to 8.5 inch range, but again, there are plenty of exceptions. Some patterns have more than one plate size referred to as a salad plate. This can be due to a change made to the product over time. These plates are versatile, and great for green salads, slices of fruit, or anything served cold on a bed of lettuce, such as chicken or tuna salad. And like their smaller cousins, they can also be used to serve average or large desserts.
Luncheon plates are also available, usually in vintage china patterns, in roughly the 9 inch diameter range. These are handy to use for buffet dinners, as they take up less space in the serving space, and allow the diners to be more relaxed using them when they may not be eating at a table.
Dinner plates are generally in the 10 to 12 inch range. Their size makes them ideal for sit-down dinners with a number of dishes, or foods that take up larger space on the plate, such as steaks or chops.
Just to add to the possibilities, there are patterns that have pie plates. Some of these are patterns which have a limited number of pieces (perhaps just mugs and plates) because the intent was to use the dinnerware to serve only coffee and dessert, and the manufacturer did not produce any other matching pieces.
As food styles change, so do the pieces in place settings. In general, casual dinnerware patterns have fewer pieces, and formal wares have more components available for each place setting.
To see what current makers of fine china are doing, it can be fun to take a field trip to a high-end department store once in a while, to get an idea of the place setting panorama.
Of course, no matter what the plates may be called, use them as you wish. Select your menu, and let the dinnerware work for you, choosing the best pieces to set a beautiful and practical table.




by