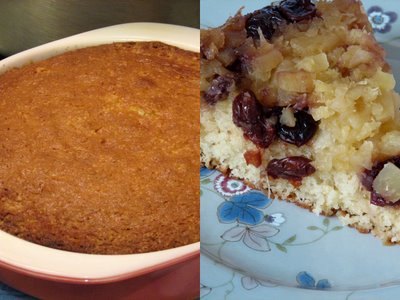 Today is National Pineapple Upside Down Cake day, an unexpected addition to our Earth Week series on baking. I made mine with leftover crushed pineapple, and added dried Michigan cherries for color and extra sweet-tart flavor.
I discovered these round Pyrex glass baking dishes, which work great for this kind of recipe. A favorite Mikasa salad plate (in the blue floral Castle Hill pattern) is just the right size to serve a generous slice.
Of course, I also love the more traditional version of this cake, with pineapple rings and Maraschino cherries. Those versions have a beautiful brown sugar glaze.
Mine is a bit lighter on the sweetness, yet enjoyable as a dessert. Add some chopped pecans or walnuts if you wish, or even a bit of whipped cream.
Pineapple-Cherry Upside Down Cake Recipe
1 20-oz. can crushed pineapple, drained
½ c. dried cherries
¼ c. brown sugar
1¼ c. flour
1½ t. baking powder
½ t. salt
1/3 c. vegetable shortening
¾ c. white sugar
1 egg
½ c. milk
½ t. vanilla
Preheat oven to 350 degrees. Butter the bottom only of a 9x9x2 inch square pan, or 9-inch round baking dish.
Mix pineapple, cherries and brown sugar. Spread in the bottom of the baking pan.
In a separate bowl, mix flour, baking powder and salt. Set aside.
Cream shortening and ¾ c. sugar. Add egg and beat well.
Combine milk and vanilla in another bowl.
Alternately add dry mixture and milk mixture to creamed mixture, mixing thoroughly after each addition. Pour batter carefully into pan over fruit mixture.
Bake 50 to 60 minutes, until toothpick or cake tester shows done. Cool in pan for 30 minutes, then invert onto serving dish. Serve warm, adding  ice cream or whipped cream if desired. Makes 8 to 10 servings.
Make sure to run a knife around the edge to loosen the cake, cover with a plate, and flip it out of the baking dish while still warm.
Then pour your coffee, tea or another favorite beverage, cut yourself a slice and enjoy!
Our Earth Day baking series will continue...




by