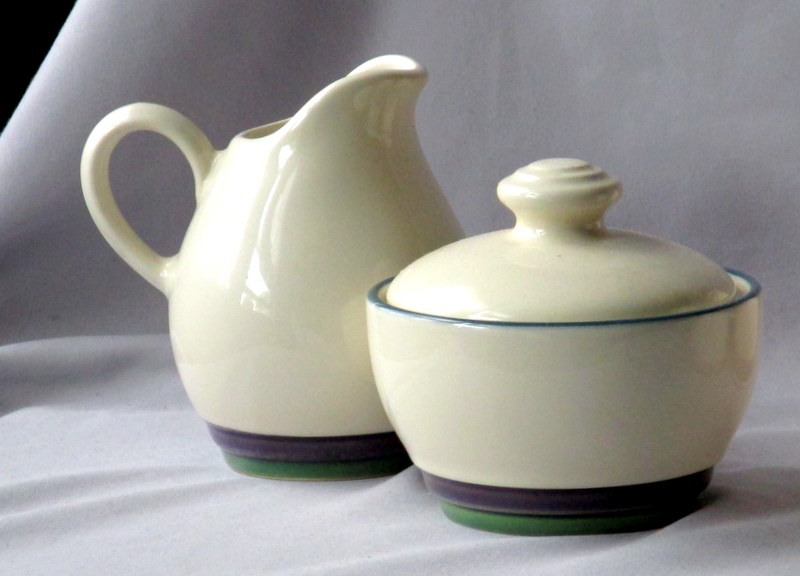 A reader asked me about one of the Pfaltzgraff china patterns that I showed in a prior post.
Thanks, Annie! I hope you found the color match you were looking for.
Here's the prior post: Complete Your Pfaltzgraff Dinnerware Collection.
If a sleek, round and simple dinnerware fits your style, you might enjoy some of these Pfaltzgraff patterns.  Many of them are more than 20 years old, and at least two of them, Ocean Breeze and Juniper, are still being made.
Mostly in the mid-90s to early 2000s, Pfaltzgraff produced several patterns using the same shapes. Some patterns early in this family go back to the mid-80s, and the discontinued ones ended in the early 2000s.
Ocean Breeze, probably the most popular, with its blue, teal and green bands, is still active after 20 years of production. If you are looking for this one in secondary marketplaces, you can expect to find it separated into two groups: the older pieces made in the USA, and the more recent ones made in China.
The variety among these patterns comes from different color bands around the edges.
Here are some of the other "bands" patterns that I've seen in my travels, not a complete list:
Mountain Shadow (mid 90s to early 2000s, teal, purple and green). I have some of this pattern in my personal collection
Valley View (purple, blue and green) Another favorite, though only made for a couple of years
Canyon Ridge (brown, olive and blue)
Cappuccino (all tan bands)
Café Latte (all dark brown bands)
Aura (mid 80s to late 90s, blue-gray and pink)
Sky (mid 80s to late 90s, dark and light blue)
Juniper (about 1990 to the present, green and mauve bands)
I like the simple, smooth lines and round shapes of these Pfaltzgraff dinnerware patterns.  You can see this easily in piece types like cups, creamers and salt and pepper shakers.
The photo below shows a Canyon Ridge cup and saucer, set in a Cappuccino salad plate.
This family of dinnerware patterns makes for a lot of mix and match opportunities, too.
Patterns that have greens and blues can go together, for examples, or browns, depending on your overall table setting color palette and the look you're going for.
There is a lot of Pfaltzgraff dinnerware available in secondary marketplaces, and if minimal is your style, one or more of these simple "bands" patterns could be just what you're looking for!
And for more about this brand of china, you can check out my Pfaltzgraff dinnerware page.




by