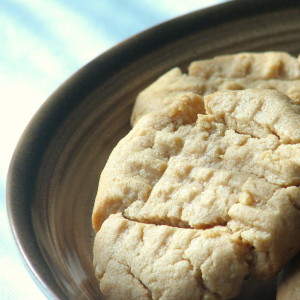 Holiday time means cookie time, and peanut butter cookies are a classic favorite.
You may remember them, with the crisscross tops, made by a fork.
They are featured here on a salad plate in the Buckskin pattern by Mikasa, from the Potters Art line. This china was made from the 1970s, into the 1980s.
The warm brown bands complement the colors in the cookies. Eat first with your eyes.
It's Peanut Butter Month - Have Some Cookies
This recipe would have been created to use the standard peanut butter available 40 years ago.
I made mine with a combination of Simply Jiff, and Jiff Natural Peanut Butter, which doesn't separate like some other natural types do.
For each, the first ingredient is peanuts, as you would expect. As the second ingredient (after peanuts), one has oils and the other has sugar.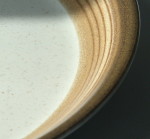 My cookie baking is a bit rusty, though I also suspect the balances of shortening and sugar could be a little different, making these cookies bake a little differently than I remember from the peanut butter cookies I made years ago. Next time, I'll choose one peanut butter or the other, and see what kind of results I get.
I know I like how these cookies look on the Buckskin china plate. I like the Potter's Art line by Mikasa, especially for comfort food, as I've written about before. It's sturdy and classy.
Old Fashioned Peanut Butter Cookies
½ light brown sugar
½ cup granulated sugar
1 egg
½ cup soft butter
1 cup smooth peanut butter
½ teaspoon soda
½ teaspoon salt
1 ½ cups all-purpose flour
½ teaspoon vanilla
In a large bowl, cream the sugars and egg. Add butter and peanut butter, incorporate thoroughly.
Sift flour, add soda and salt. Mix into creamed mixture until smooth. Add vanilla.
Chill dough for about half an hour. Then roll into walnut-sized balls. Press down with a fork, criss cross. Placed on greased cookie sheet and bake at 375 degrees for about 13 minutes, in center oven rack. Remove from cookie sheet and place on paper towels or rack to cool.
Tips For Baking Peanut Butter Cookies
Use half butter and half vegetable shortening if you wish
Try crunchy peanut butter, or another of your favorites
Test with dark brown sugar if you like a bit of molasses flavor
Peanut butter cookies make a tasty afternoon snack. When you make them at home, you know exactly what's in them. Serve them on your favorite vintage china, and remember days gone by, or create a new savory memory.




by