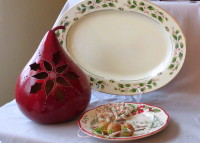 Grandma's vintage Christmas platter can do extra duty as holiday décor, if you don't need to use it to serve your special dinner.
This platter by Fine China of Japan (circa 1980s) can be the basis for a centerpiece using natural elements, like greenery, ornaments made from walnuts, and frosted tree pretzels.
The platter pattern (so far unnamed) is similar to Holly Holiday and Holly Yuletide, by the same maker. The salad plate is from the Heritage Collection by Better Homes and Gardens. Perhaps a future vintage classic?
The painted gourd luminary was handmade by an Etsy seller, Create . . . → Read More: Have a Vintage and Natural Christmas