Paczki (poonch-key) are a filled doughnut that's very rich with butter and eggs. They're traditional in the Polish community at Mardi Gras. Once Lent arrives, they go into yummy memory until next year.
Prune is a traditional filling, but we can also get them with apple, raspberry, blueberry, lemon, cream cheese and my favorite, Bavarian creme.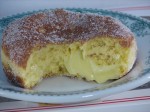 The estimated calorie count is around 400 -- give or take -- but at Mardi Gras, who's counting? Tomorrow...
Paczki won't last long on any plate. Here we show a cream filled one on a favorite vintage plate, Marion pattern by Mayer. This sturdy restaurant ware is also good to help melt a grilled cheese sandwich.
And now for some coffee, to go with the rest...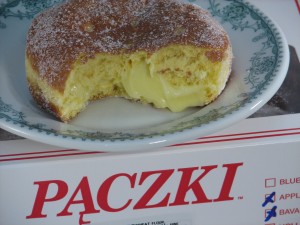 by