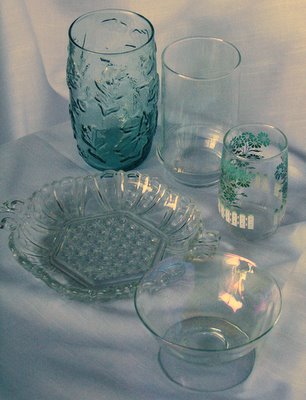 Mix and match dinnerware has lots of interesting possibilities. Charming and creative table settings are often born when different patterns are combined. Same holds true for glass.
Yesterday I saw a blog post today about creating collections of mixed glassware. Oh yes, a vintage lover after my own heart wrote this, and chose the glass.
The post is at The Kitchn, inspiring cooks, nourishing homes.
An eclectic set of glassware pieces can help you go cottage with your table setting, or retro modern, or classic elegant.
Vintage wares can be an avenue for nourishment, in more ways than food.
In my travels, I often find single pieces of beautiful glass. I can't always bear to leave them (and many times, I haven't).
I may never know the pattern name or maker of these pieces, but experience teaches the qualities of fine glassware, and eventually you know it when you are handling the best-made wares. Then there are those where the beauty comes from color, or shape or a less-definable character.
Versatility and opportunity to experiment are just two of the many benefits of a collection of unmatched pieces.
Will I own some rare piece of Fostoria or Tiffin? Perhaps, whether I ever identify them with certainty or not. It doesn't matter.
I choose my dishes and glass to use. Trot out your favorites, too, and enjoy your dishes.




by