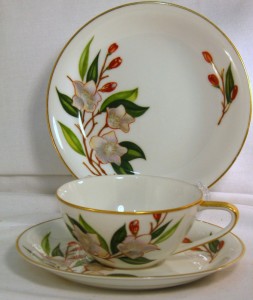 This vintage Noritake china caught my eye the first time I saw it. The dinnerware decorated with a large floral motif in beautiful autumn colors and gold handles -- so dramatic.
I'm usually a fan of blue, green and silver dinnerware, but I could not leave this classy china on the shelf.
This china has so many possibilities for a color palette and theme for a fall wedding.
White flowers and background
Gold edges and the outsides of the handles
Rusty red in the flower buds
Warm brown in the twigs
Green leaves in at least three tones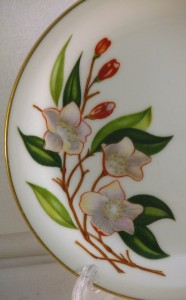 The colors give this dinnerware lots of scope to use this china as part of a vintage wedding table setting.
Then there are the motifs: flowers, buds and leaves.
I used to think the flowers were dogwood blossoms, but now I'm not so sure. Could these be apple blossoms? Or cherry? (Please leave a comment below if you have an idea about this.)
In any case, there are design ideas lurking in this classic Noritake china.
It's older than the vintage Noritake china that I wrote about yesterday.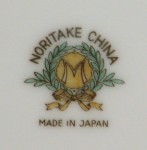 Based on my research, this is most likely to be pre-World War II dinnerware. I found that the M in the wreath mark was used from around 1914 to 1940. Noritake stopped importing to the United States in 1940. The M stands for Morimura. (The Morimura brothers were early importers of Japanese goods to America.)
After the war, several years went by before Noritake started to supply dinnerware to the US again. As of the 1950s, they had replaced the M with an N for Noritake, and kept the colored wreath motif.
If the colors and motifs of this dramatic dinnerware suit your vintage wedding, or you're looking for some inspiration for a wedding, anniversary party, birthday or other special occasion, beautiful old china like that can be just the thing to inspire a unique and memorable table setting.




by