Ge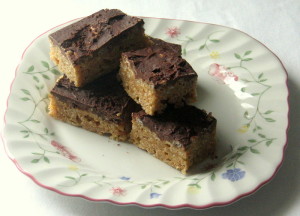 t out the cookie jar, and make some easy, no-bake peanut butter bars for quick snacks.
Not that they'll last long.
If you're of a certain age, you'll remember Rice Krispie Bars made with marshmallows, or the version with chocolate tops.
This one is something of a hybrid, to my mind. It has peanut butter to give it some extra goodness.
Just make up the "sauce", stir into the cereal, and top with some melted chocolate.

No Bake Peanut Butter Bars
(Also called Sweet Marie Bars)
1 cup light brown sugar
1 cup mild honey
1 cup smooth peanut butter
5 cups Rice Krispies (or the generic version)
12 oz. semi-sweet chocolate pieces (or more if you like)
In a heavy, medium sized sauce pan, melt the first 3 ingredients, over low heat, stirring often.
Meanwhile, measure out the cereal in a large bowl and set aside. Butter a 13x9 pan, and set aside as well.
When the heated mixture is smooth, pour into the cereal and mix gently. Spread into the pan, and set aside or refrigerate to cool.
In a heavy, small pan, melt the chocolate. Stir often. (Can also be melted in a microwave.) Be careful not to scorch the chocolate.
When all the pieces are melted, spread on top of the cereal mixture, using a small spatula.
Cut the bars when the bars have cooled completely. Makes about 36 bars, cut 1 inch by 2 inches.
Tips:
Try with crunchy peanut butter if you wish
Let the bars cool before cutting. I like to cut them small, because these are rich
Enjoy with a cup of coffee or tea, or your favorite cold drink
Make a double batch, if you have a pan big enough, to work fast when spreading the bars
Recipes like this one for no-bake peanut butter bars are handy for holiday treats, everyday snacks, and bake sale offerings. They also make a tasty holiday gift for special friends and family. (Photo shows the finished product, on a square salad plate, in the Summer Chintz pattern by Johnson Brothers.)




by