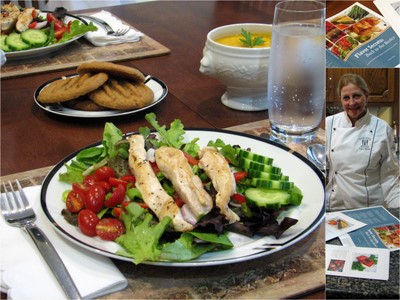 Lunch at Chef Lynn Miller's house is all about great dishes, both tasty food and classy tableware.
We met recently, and our conversation began with her new cookbook, Flavor Secrets: Back to the Basics, A professional Chef's guide to delicious home cooking. We talked about the food, and we talked about the china and flatware.
I'm a confessed dish flipper, sometimes to the embarrassment of my friends, whether visiting private homes or dining out. Curiosity reigns. I want to know who made the china.
Chef Lynn is also a dish lover after my own heart. As a serious cook who evolved to become a chef, her kitchen and dining room are arranged to teach and entertain. She showed me her dinnerware collections, much of it beautiful German china.
Imagine someone who had the run of china shops in Germany for eight years and you will get the idea.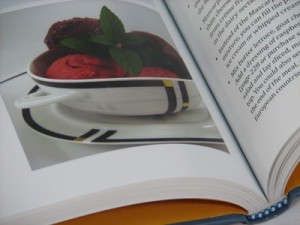 Her collection of Rosenthal china in the Nera pattern is the dinnerware star of the book. Nera was made from the early 1990s to around 2005. This ware features sleek, modern shapes glazed in bright white, with black bands and gold details.
Many of her dinnerware choices are based on white with black elements. She says this makes it easy to mix and match many patterns with this basic, classic palette as the foundation. And it gives a nice setting to the food.
Nera pieces provide a fine setting for many of the food photos in Flavor Secrets, as the 144 recipes in this book are based on the best of 21st century American home cooking. The recipes draw on both traditional, and modern influences.
I can see myself doing a "Julie and Julia" with this book, to update my cooking skills. I grew up eating foods like this tuna casserole. I still make it as comfort food. But I've also seen the need to expand my horizons.
Flavor Secrets is a cooking course in a book, and it is exciting to see a new book which honors traditional foods from a Midwest childhood, while also teaching recipes based on more recent trends. From potatoes to pickles, salad to sushi-grade tuna, there is something here for any cook to explore.
As for my future dish hunting trips, I'll give more attention to the German china. We often see Seltmann or Thomas in our travels, and sometimes Winterling, but rarely Rosenthal. All of these lines are beautifully crafted, but I think often under-appreciated in the US.
Tasteful dinnerware designs always offer more scope for creative table settings. And these tasteful recipes will certainly make cooking at home a new adventure as well.
For more information: Please see Chef Lynn's Curious Cooks website, or the publisher's site for Flavor Secrets. Book review is on our Detroit Baking Examiner page.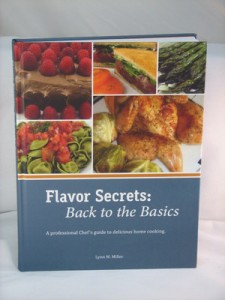 by