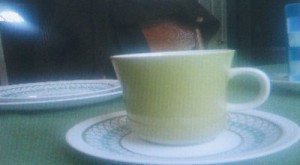 Rebecca was kind enough to send photos of her vintage Mikasa china in the Halo pattern, as a follow up to my recent post about this vintage dinnerware in the Cerastone line.
(Sorry about the grainy quality. I had a snag with the download and had to go to Plan B.)
I've never seen this one in my travels, though I've seen many of the other Cerastone pattern, and lots of vintage Mikasa in general.
When it comes to finding dishes in the secondary marketplace, having a visual image helps a lot. This china is well marked but that's not always the case. And it's easier to scan a shelf visually rather than having to pick up a piece of each stack of dishes (though that's often enjoyable, to handle the wares...)




by