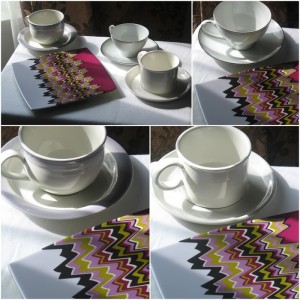 I couldn't stop playing with the dishes, so I came up with some more Missoni table setting ideas.
Missoni for Target dinnerware provides lots and lots of table setting inspiration.
I used a salad plate in the Passione pattern, purple family colors, big chunks of raspberry and white in between the center color bands.
Continuing from my last post, Missoni Dinnerware Table Setting Ideas, which focused on bold colors and square shapes, I fiddled around some more.
This time, I tried softer colors, predominately white palettes.
I tend to go for the monochromatic color schemes in table setting. And there are lots of possibilities with patterns that have this much color, but also include neutral white and black.
Mix Missoni With White Cups and Saucers
Lilac Glow by Noritake is a vintage pattern from the mid-1980s. This dinnerware is stoneware, soft violet purple airbrushed at the rims, on a creamy white background
Graytone, also by Noritake. A vintage pattern from the 1960s into the 1970s. Made in fine china with small bands of gray and platinum at the rims
Stonehenge White by Midwinter. Classic retro shapes in creamy white stoneware. This pattern was made for almost 20 years, and remains popular in the secondary marketplace today
I like these vintage china patterns with the Missoni, not only for their subtle colors, but also for their retro shapes. The zigzag really reminds me of the 70s.
White on white dinnerware patterns can give your table setting a lot of texture. The colors in the Missoni will stand out boldly on a white background, whether it's a cool or warm white.
I'd pick one white to predominate, so that the table setting looks cohesive. Let complementary pieces in other china patterns add texture to your design.
There are so many possible Missoni table setting ideas that you might not be able to choose just one!




by