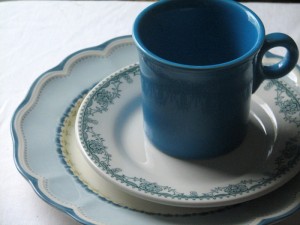 We get lots of gloomy days in Michigan. One way to brighten them, mix and match dinnerware pieces from the cupboards. Playing with dishes is always fun…
I started with the smaller plate, Marion by Meyer. This is vintage restaurant ware. In weight it's close to stoneware. This service-ready china is very practical, and this pattern fits well with my "every color as long as it's blue" dinnerware obsession.
Grilled cheese sandwich, hear I come. This plate goes on top, to help the cheese melt as I cook it in the skillet.
The larger plate is Provincal Sky by Lenox. This luncheon plate size works well for pizza. Bigger than a salad plate, smaller than a dinner plate. Very pretty! Two big slices fit just fine, and I'm not tempted to take three slices.
The mug is Fiesta by Homer Laughlin, in Peacock Blue. Heavy and thick walls keep my tea hot longer. I need three cups of tea over the course of a day like this.
Mix and match dinnerware helps to make a murky day more enjoyable, one table setting at a time.




by