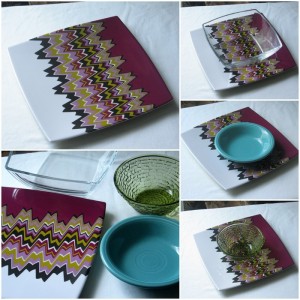 You had to have it. Making a Missoni dinnerware table setting, how bold it that! This dinnerware is meant to make a statement.
This dinnerware was designed exclusively for Target and was an immediate hit when it was launched on September 13. So popular, that it could be hard to get enough of any one type to put together a table setting (check for Missoni for Target dinnerware in marketplaces like Amazon and eBay).
Also, the piece types are limited: salad plates, dinner plates, cereal bowls and tumblers that coordinate.
Not that the pieces match in the traditional sense. This ware is reminiscent of bright retro color and design patterns. Bargello needlepoint on melamine.
How could you not want to play with this dinnerware, though you could just use it for holding candles or hanging on the wall. But what if you want to incorporate it into your tableware collection?
Where there's a will, there's a way.
Missoni colorways deconstructed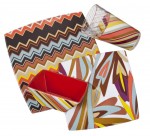 I got a salad plate in the Passione pattern. I thought the major sections in raspberry and white would best suit other pieces of dinnerware in my collection. The Colore pattern is similar, though based on a warm color palette.  (Photo by Target.)
What to put with this? My first thought was Fiesta by Homer Laughlin. Solid colors, bright and bold.
Then I realized that there are really three color concepts at work on the Missoni plate. Divide and conquer.
Three colors fall into the purple range. One is a grayish purple, close in tone to the next one, lilac, and then the raspberry
Two colors are decidedly neutral: black and white. Either, or both together, can provide a clean background for the larger table setting
One color, the lime green, is the accent. Emphasize it for a sassy spark of color, or let it be, just on the plates
Texture and materials can be mixed and matched as well, depending on what theme you want your table setting to convey.
Three possibilities - Missoni for Target table setting
Use sleek, clear glass to let the colorful dinnerware shine forth. Passione mixed with clear glass, square shapes and shine in harmony. Clear bowl from the Food Network dinnerware line blends.
Accent with solid bold color, and contrast with round shape and texture. The fruit bowl in turquoise Fiesta, by Homer Laughlin adds a color, though in the cool range of the purples. You can set a table with the piece types available in Fiesta in one or two colors that complement your theme. (I thought about testing the Lemongrass color in Fiesta, but I'd want to see the pieces together. That would one eye-popping table setting!)
Blend with a vintage color and texture, like the fruit bowl in Soreno Green by Anchor Hocking. Contrast of round on square, textured on smooth. Not the same green as the lime in the plate, but I think green could work as the main color, especially a retro avocado or olive green. This harkens back to the 1970s vibe of the zigzag pattern.
These are just some of the possibilities for creating a Missoni dinnerware table setting. With all the colors and texture possibilities, there is a whole world of possible unique tablescape ideas to explore.
More to come…




by