Remember the tag line, Love Leads to Lenox, used in print advertising during the heyday of department store wedding registries? Lenox fine china and crystal were so associated with weddings, that if you were in love, registering a pattern and, ultimately owning Lenox, was deemed inevitable.
Today the fine china market has softened, and Lenox china is no longer made in the USA. Yet tradition remains. As it has done for 20 years, Lenox has made commemorative pieces for the presidential inauguration, as gifts to the new president and vice president.
Lenox Group Inc. has designed and created the inaugural gift for the incoming president since George H.W. Bush in 1989.
In 2009, the items were etched crystal bowls. The company reported, "The presidential crystal bowl shows an image of the White House, flanked by cherry trees. The vice presidential crystal bowl depicts the Capitol building, also flanked by blooming cherry trees."
The Lenox we find in our travels is usually the casual variety. We like the Temperware line, made in the 1970s and 1980s, which is sturdy ware made for daily use, located somewhere between porcelain and stoneware on the pottery spectrum. It's made to be oven and dishwasher safe, though the pieces can chip, and heavy use will leave utensil marks.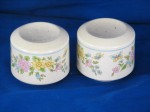 We like the charming patterns, like Sketchbook, Sprite, Daybreak and Coral Blossoms. Of course, all Lenox china is lovely. And if you love vintage, it still leads to Lenox.




by