Tips to use mismatched cups and saucers for an eclectic table setting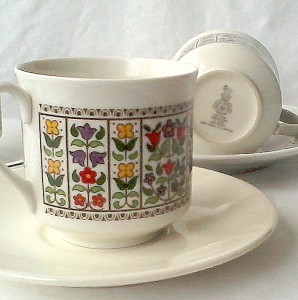 If you shop thrift stores for dinnerware, you've probably done it, too. You just have to have those darling, charming, funky, lovely, delicate, classy, retro or just plain wonderful vintage cups in the store, even though the saucers are nowhere to be found.
You scoured the store. Because other shoppers will move things around, and you might find the fourth glass, for example, with the wooden ware. Or the underwear.
And you've returned to the store, asked the clerks, tried all the area stores of that kind, and the competition, too.
Still, no saucers. Orphan cups.
You can check online and see if you can find them.
Or you can do what I did, and search the shelves right then, and see what they have that could work with the cups you can't leave behind.
At least, you'll enjoy using those cups for your tea or coffee, while you hunt for matching saucers at a more leisurely pace. Or you might decide, you just don't need them.
Eclectic is cool.
Fireglow by Royal Doulton
I saw these cups a couple of times, and they just kept calling. The Fireglow pattern is a fine example of retro style, from the 1970s. These are cool cups!
It's been a few weeks, and I've been back to that store several times. Still no saucers. But the day I bought the cups, I dug around and came up with three candidates for saucers to go with them. One is a vintage mid-century plain off white. The saucer with the green band on the edge is Elegantware, made in China. And the embossed example is by Gibson.
Bella Roma by Nancy Calhoun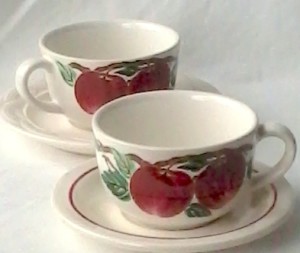 These cups are a recent find. This pattern is from the Café Classico line, from the 1990s. I like their heavy weight, reminiscent of restaurant ware, but these not quite so highly fired. These could go with another apple-theme pattern, or a fruit theme table setting.
I paired one with a real restaurant ware saucer. The red band example is by Buffalo. The embossed saucer is by Pfaltzgraff. It's a little larger, but the weave texture goes with nature, to my mind.
Tips For Matching The Mismatched
Materials. Look for a similar weight, or something that's different enough that it provides contrast. They'll know you did it on purpose, if you use your mismatched sets for a party.
Background color. Again, a match, or different enough to complement. Different colors in the same range give depth to your tablesetting.
Foot well. Whether the cup is footed or not, there's a round spot on the saucer made to fit the cup. Your cups and saucers should match, or the well should be slightly larger than the cup bottom. If it's too small, your cup could tip and spill. If it's too large, the cup will slide around and again, can spill, or even fly off the saucer.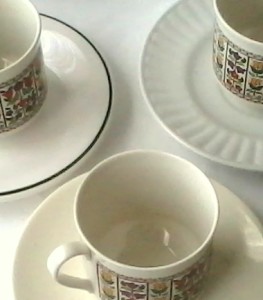 These are general guidelines. Rules are made to be broken, especially when it comes to creative use of your thrift shop finds. As long as you're creating an eclectic table setting, you'll set your own rules.
Which pair of mismatched cups and saucers did I like best? I like the Royal Doulton cups with the green-band saucers. I think it picks up the same bold colors as the cups.
I like the Nancy Calhoun cups with the Buffalo saucers. It's the reds, and especially since the apples have multiple shades.
When I get around to setting a table, that could change. It depends on the rest of the dinnerware, and what effect I'd like to achieve.
Mix and match dinnerware is a fun game. Once you get started, you might not want to stop!
And for these no-longer-orphan cups, maybe there's more than one match made in heaven, even if I do find the matching saucers someday.




by