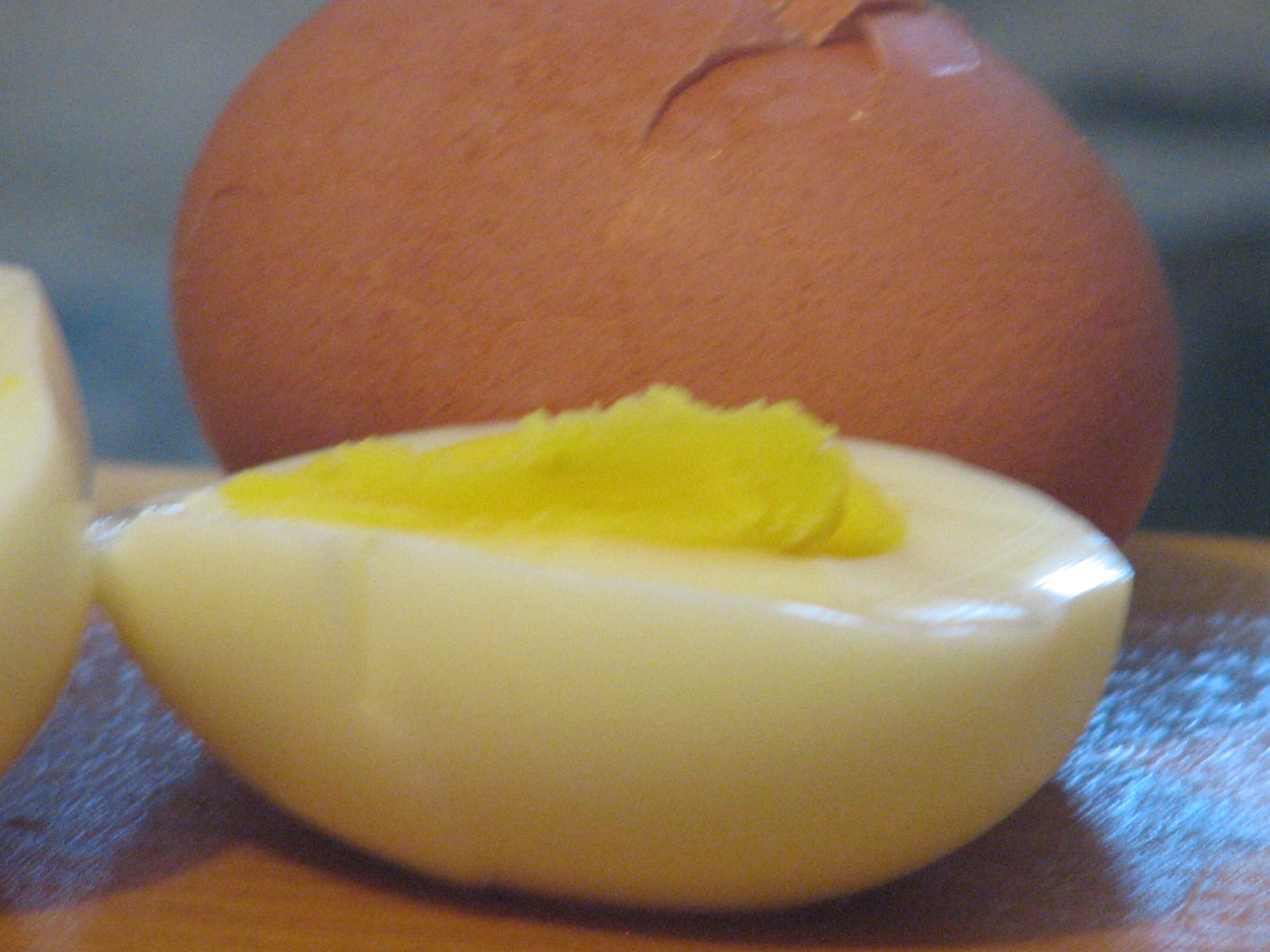 Making hard boiled eggs seems easy. We use them for deviled eggs and beet pickled eggs. But you need them to peel cleanly, and that's not as easy as it seems.
We like our hard boiled eggs just done, with fluffy yokes and NO green ring around the yoke, a sure sign of overcooked eggs. Here are our tips:
Buy your eggs a week or two ahead, and keep them refrigerated until you're ready to cook them.
Cook two or three more than you need, to allow for the one that might not peel well.
When ready to cook:
Place the eggs in a heavy pot and cover with about an inch of cold water.
Bring to a gentle boil.
Simmer at boil for about 10 minutes.
Turn off the heat and leave eggs in hot water for another 10 minutes.
Plunge eggs into cold water. You can use a few ice cubes, or we use a frozen lunch pack to help cool them off.
If you're going to peel the eggs, crack them and let them sit in the water for a few minutes. Water between the egg and the shell helps loosen them so they'll peel easier.
Beet Pickled Eggs
Make about three days before you want to eat them.
2 15-oz. cans sliced beets, drain but save juice
12-16 hard-boiled eggs, peeled
2 ½ c. white vinegar
2 ½ c. beet juice from the cans (add vinegar if needed to make 2 ½ cups)
1 c. white sugar
2 t. salt
10 whole cloves
2 sticks cinnamon
Put hard-boiled eggs into a glass jar or other non-reactive container. A half-gallon, wide mouth canning jar works well. Set aside.
Put beet juice, vinegar, sugar, salt and spices in a non-reactive pan (stainless, glass or enamel). Bring to just boiling. Remove spices. Pour hot liquid over the eggs. Place sliced beets on top to fill container and hold down eggs. Cool partially, then refrigerate until you want to use them. It takes about three days before the color will go all the way through the white. Stir occasionally to prevent white spots. The pickled beets are good, too.




by