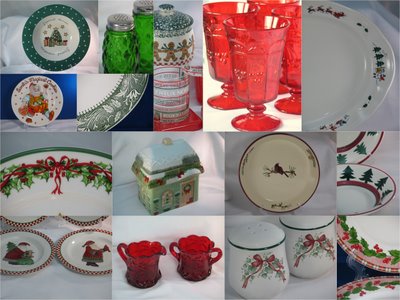 Setting your holiday table can be a snap when you choose red and green as your color scheme. So many of us grew up with bright red and green as the holiday decor at home, in shops and at school. These colors will bring back happy Christmas memories from times gone past.
Start with the red and green dinnerware you already own, and evaluate which pieces you need to add, based on your menu and the number of guests.
Choose a true red, cherry red or candy apple red
Select a green that is in the middle on the green scale (not too yellow, not too blue) like Kelly green or pine green
Set these colors off with white, if not in the pattern itself, then in other china, glassware, serving pieces, or your table linens
For something a little different choose a burgundy red and a spruce green, then set your table off with winter white linens.
Pull a motif out of your centerpiece and harmonize the colors with that, such as red roses and green holly
Add to the red and green color scheme and let a holiday theme predominate, such as snowmen, Santa, snowflakes, evergreen boughs, wreaths or ribbons
Traditional red and green dinnerware makes a festive holiday table. Adding some new treasures as accents in harmony with the same color scheme will help your family enjoy their holiday dinners, buffets and gatherings even more.







by