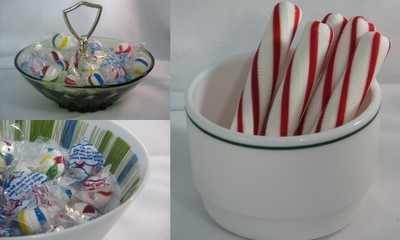 Candy and cookies are the best holiday treats. Your vintage dishes can star in the show when you mix and match them in your table setting, and use them to keep the candy handy for guests of all ages.
Just like you can repurpose a special canister as a cookie jar, you can repurpose salad bowls, soup or cereal bowls, and just about any dish to make it the candy dish. Choose a color or theme that works with your holiday décor, and there you are!
Back in the day, us kids when down the road to the Dairy Store to buy our penny candy. There were lots of choices for just one cent in those days. I remember the gum, grasshoppers, and peppermints.
When we went over to Aunt Gertie's house, she had a tin of ribbon candy or filled hard-candy raspberries. Those were special treats.
New or vintage candies, in new or vintage candy dishes are fun to look at, and to eat.  And they may well get the conversation going into precious memories of holidays gone past. You can reminisce and enjoy those stories, along with a taste from those times.
In our photo collage, the green glass tidbit dish is by Hazel Atlas, in the Swedish Modern pattern, vintage 1970s. The handle makes it easy to move around or carry when you are setting up your tea table or buffet.
We purchased some Old Time Candy to help show off the dishes.
A colorful pattern inside the vintage salad bowl picks up the colors of the candy. This one is by Mikasa in the Tropicana pattern. Use a salad bowl for a big bowl of candy when you're entertaining a crowd, or to serve a sweet-salty treat like kettle corn or cereal mix. Wrapped candy will last a long time (depending on how many candy monsters come over to visit).
The peppermint sticks are cute in a glass custard cup, from the restaurant ware line by Arcopal, made in France. These glass cups could go at individual place settings, too. Or use them to hold a small assortment wrapped in netting, as small gifts for your guests to take home.
Holiday entertaining -- any time of year -- can create new memories, and an opportunity to be creative in your table setting, using vintage favorites, including the edible kind.




by