I've been in the grocery store a lot lately, and seen ladies with their lists, checking off the items they need for their holiday party menus.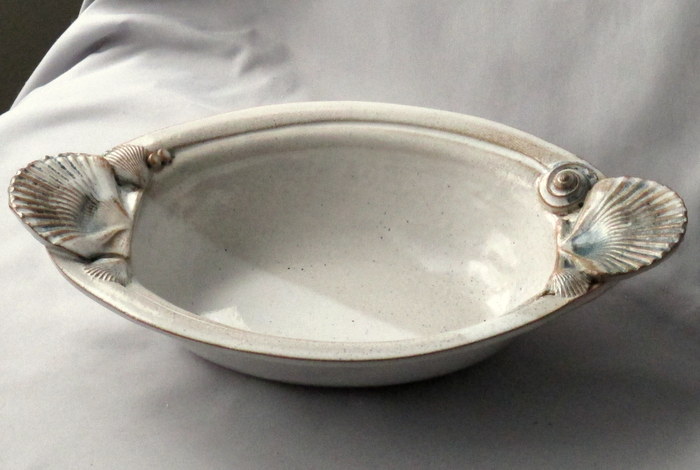 (Sorry guys. I know some of you plan, too.)
They are planning for the food they'll serve for special days coming soon: Thanksgiving and Christmas among them.
I wonder if they are planning for their dinnerware and serving pieces as much as the cooking.
I'll bet many of them are.
Having the right dinnerware and serving pieces is all part of pulling off an enjoyable holiday dinner. (Planners know the benefits of forethought. Some say picky. I say wise.)
Deviled egg plate. Check. Casserole for that green bean dish. Got it. Pie dishes. Ready to go.
In my case, it's a handcrafted pottery baking dish, about one quart size. This can be used for clam dip, oyster dressing, or serving scallops. I got it years ago at a ceramics sale at the local community college. I don't use it often, but when I do, it's a conversation starter.
This charming dish is out of storage, in time for the winter season.
Plan Your Menu - And Your Dishes
It's easy to take your party planning one more step (if you haven't already) and check to make sure you have the serving pieces you need for all the wonderful food that you'll be serving.
Make a shopping list for dishes. I have my "permanent shopping list" for vintage goods. It helps me keep track of what I'm looking for, and especially like those occasional pieces like jam jars, pickle dishes, gravy boats, serving bowls in my favorite patterns, and small platters. You don't use them every day, but when you need them, you need them.
Set your table or buffet ahead of time, including the serving pieces. Then go down your menu and decide where you will place each item. This helps expose any holes in your dinnerware collection, while there are a few days left to remedy those gaps.
Remember the flatware serving pieces. Have enough pie servers, slotted spoons or small ladles for sauces, pickle forks, spreaders for cheese balls? The right flatware makes it so much easier for guests to help themselves when it's time to eat.
Small or large, using the right serving pieces will make it easy to bring your food that last step, from the serving dish to the plate.
Happy guests, relaxed hostess. Part of the recipe for a successful holiday party!




by