Diary of a Dishie just turned 2.  It's not every blog gets to be 2 years old, and have a party to celebrate using beautiful dishes.
This blog is for everyone who loves vintage dinnerware and china, glassware and related items. It is about the dishes, the thrill of the hunt, and how to use and enjoy your finds.
Just in the last day, I got to speak with a customer who will be the lucky recipient of some beautiful, vintage aqua glassware. We talked about the colors of this pattern, Soreno by Anchor Hocking, made around 1970. It's fun to compare notes with a fellow dish hunter, and get to share enjoyment of this kind of glassware and dinnerware.
As part of our birthday party for the blog, it has also been enjoyable to review prior posts. Some highlights of the first two years:
Tea at Adare Manor in County Limerick, Ireland
Tips on creating a Mother's Day table setting
Visits to Chef Lynn Miller to find out about her cookbook, Flavor Secrets, and see her wonderful dish collection
These and many other posts are another form of handling the "loot" of various dinnerware hunting trips.
And that birthday cake with the pink frosting, oh was that good. It came from the bakery in a local specialty grocery, Holiday Market. A very nice chocolate cake, generously frosted. Served on a vintage china dessert plate, along with a good cup of tea.
In the coming year, Diary of a Dishie will continue to explore vintage dinnerware, china, glassware and everything else we all love in that line, with perhaps a surprise or two along the way to help you express your favorite table setting ideas. Painting with dishes...
Isn't it fun to share your best china and dinnerware with your family and friends? Use the paper plates for picnics. For parties at home, holidays and other get-togethers, bring out your lovely dishes and let them remind you of special times -- birthday or otherwise -- all year round. Create some wonderful new memories, too.
More to come...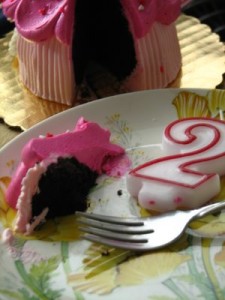 by