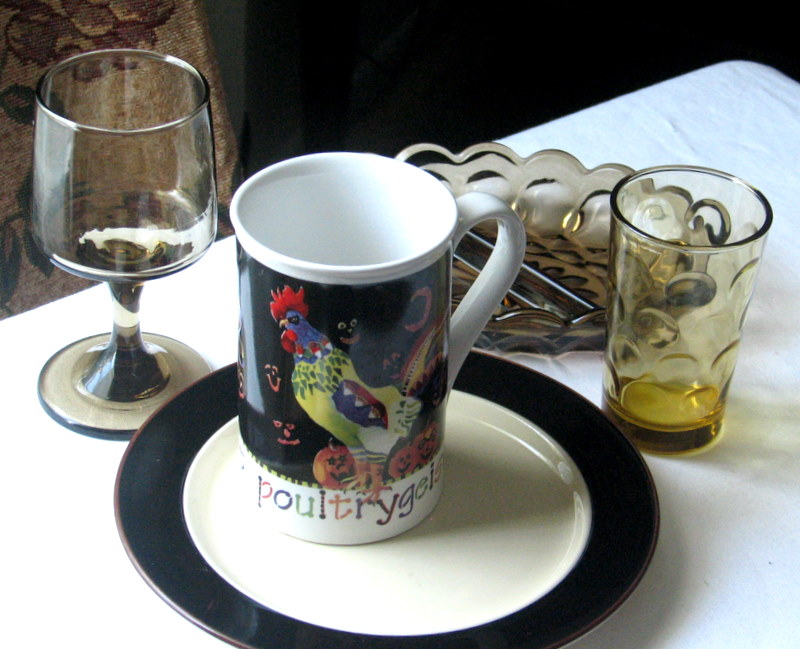 When it comes to Halloween dinnerware colors, the selection is broader than you may think.
The plan usually starts with traditional orange and black, of course. Pumpkins and bats -- it wouldn't be Halloween without them.
In more recent years, purple and lime green have been added to the palette.
Fall dinnerware colors in the brown, gold, rust and cream range can be used as a neutral background, to set off a quirky and spooky Halloween table setting theme.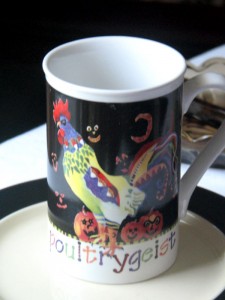 I've written about my favorite Poultrygeist Halloween mug before. I just smile every time I see the funky mystery rooster, ready for trick or treat. The motif features black, orange, lime green and purple, as well as red, maroon and white. It has lots of personality!
A single piece like this can inspire an entire table setting:
Glassware in tawny brown or gold complements Halloween orange, and gives the table setting some bling
Dinnerware in tones of cream, black and brown anchors the bright colors
Linens can go plain, or go wild, to create the Halloween party theme you've selected
Once you choose a color palette or theme, you will be surprised how fast you find the right pieces to carry it off. For example, before today, I had the Poultrygeist mug. I found the other pieces in a couple of hours of scouting.
Your choices for Halloween dinnerware colors are limited only by your imagination. Raid your cupboards to find the sparks of your ideas. Then create a fun and fanciful tablescape for maximum entertainment value and food service functionality.
Once that's done, let the party begin!
About the photo: Poultrygeist mug, Poultry in Motion by Sharon Neuhaus Designs. Wine glass, Tawny Accent by Libbey. Divided relish dish, Fairfield in Tawny Brown by Anchor Hocking. Juice glass, Eldorado Gold by Hazel Atlas/Continental. Stoneware salad plate, Jubilee/Bands of Celebration by International China.




by