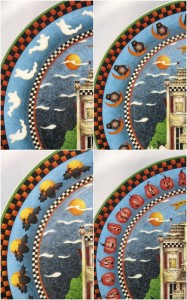 Colorful Halloween dessert plates by Sakura are one example of the cutest Halloween dinnerware. Designed by Debbie Mumm, they have special, spooky charm.
The Haunted House pattern dates from around 2000, before purple and lime green had gained so much popularity as colors for Halloween decorating. My favorite Poultrygeist mug was made more recently, and works in those colors.
When I found these plates this week, I knew what those guys feel like on Antiques Roadshow, when they get to see something live and in-person, that they might never see again.
The checkered pattern in the rims reminds me of school days at Halloween, making paper chains of construction paper in black and orange. Then there were the peanut butter kisses wrapped in the same colors.
This pattern was made for a limited time, so this pattern is uncommon, yet chock full of favorite Halloween motifs, like ghosts, bats, owls and pumpkins, not to mention the charming haunted house in the center.
In this pattern, it's the rims where the differences come in.
Haunted House is an example of china made for dessert service. Just mugs and these plates, in a generous size to serve pumpkin pie, caramel apples, witch-shaped cookies, or any other treat you might be feeding your hungry trick-or-treaters when they come back from the evening's revels.
Halloween dinnerware is so much fun! There are plenty of colors and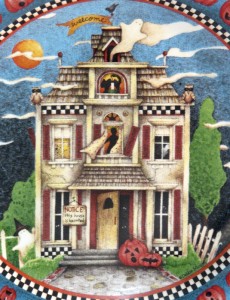 motifs to use as a basis for a party, a cauldron full of spine-chilling possibilities.




by