Halloween is near, and it's time to raid the cupboards for some dishes to use as the "bones" of your table setting, whether for a dinner, a party, or a casual snack.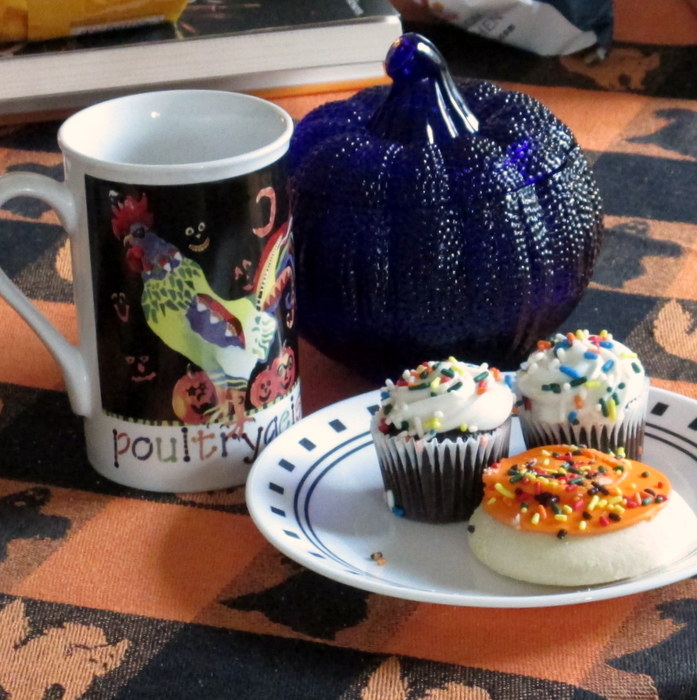 The bulk of your table setting - the plates, cups and bowls - can be as close as your kitchen.
One of our dinnerware patterns is the graphic, black and white City Lines or City Block by Corelle. It's dinnerware we use every day.
This pattern was introduced about 10 years ago, and is still available. We like it for its versatility and clean lines.
Classic Colors for Halloween Dishes
Black, white, or black and white can be the basic color palette of many table settings.
In addition to new Corelle dinnerware in this pattern, we have found pieces in the secondary marketplace that are like new.
I found some bread plates recently, for example. You just cannot beat the price, and they looked like they'd never been used, and never visited the dish washer (in a good way, no dullness to the finish).
We've also added plain white Corelle to our collection, which mixes with it just fine for a lot of different event or menu needs. (If you're searching online, try Winter Frost White.)
At our house, the white and black dinnerware set is an easy starting place for a casual Halloween color palette.  Black or white are a fine basis for Halloween, and we have plenty of pieces and piece types, to use them for our Halloween snacks.
The bright white stands out on the traditional orange and black tablecloth. They will work with just about any special Halloween pieces we can conjure up, whether any ghosts visit us that night or not.
Witches and goblins, vampires and zombies - any of these visitors can bring some extra dark colors to the table setting, and to the party, too.
Wicked Cool Tableware Accents
Mix and match works great for a Halloween party.
The basic table setting morphs into Halloween style with my favorite Poultrygeist mug (which has made an appearance for many years on this blog around October 31).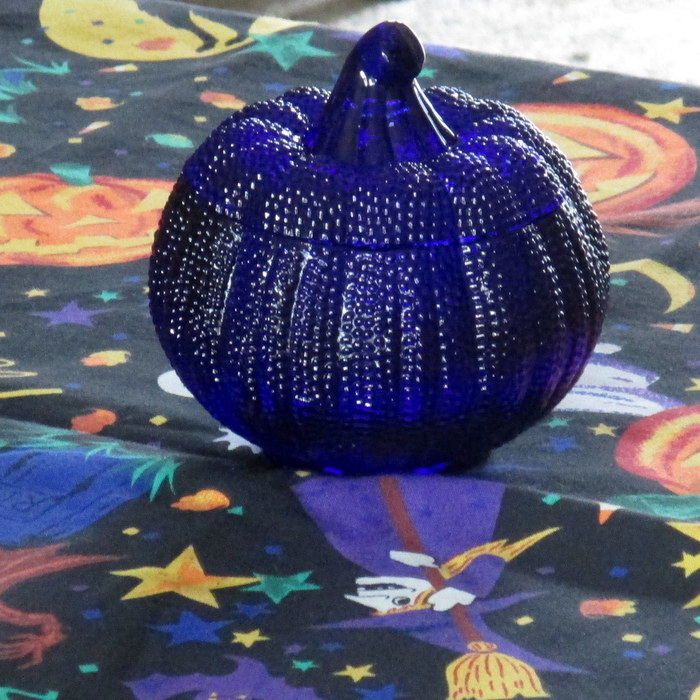 This year includes another special piece: a glass candy dish in cobalt blue, pumpkin shaped. Sorry, I don't have one for every guest to take home, but this one will fit nicely into the centerpiece.
By planning for Halloween all year round, I continue to add more pieces to my dinnerware collection as the opportunities arise.
Meanwhile, the dinnerware that lives in the kitchen all year round can come out to play for Halloween, or any other special dates, just about any time.




by