When my grandmother's estate was settled, I got her party dishes. That was what we called them: three boxes of glassware snack sets, in an unknown pattern by Orchard Crystal, a total of 12 sets.
The plain boxes, somewhat the worse for wear, did not attract anyone's eye, but I knew what they were.
It's not that us kids got to use these dishes, however.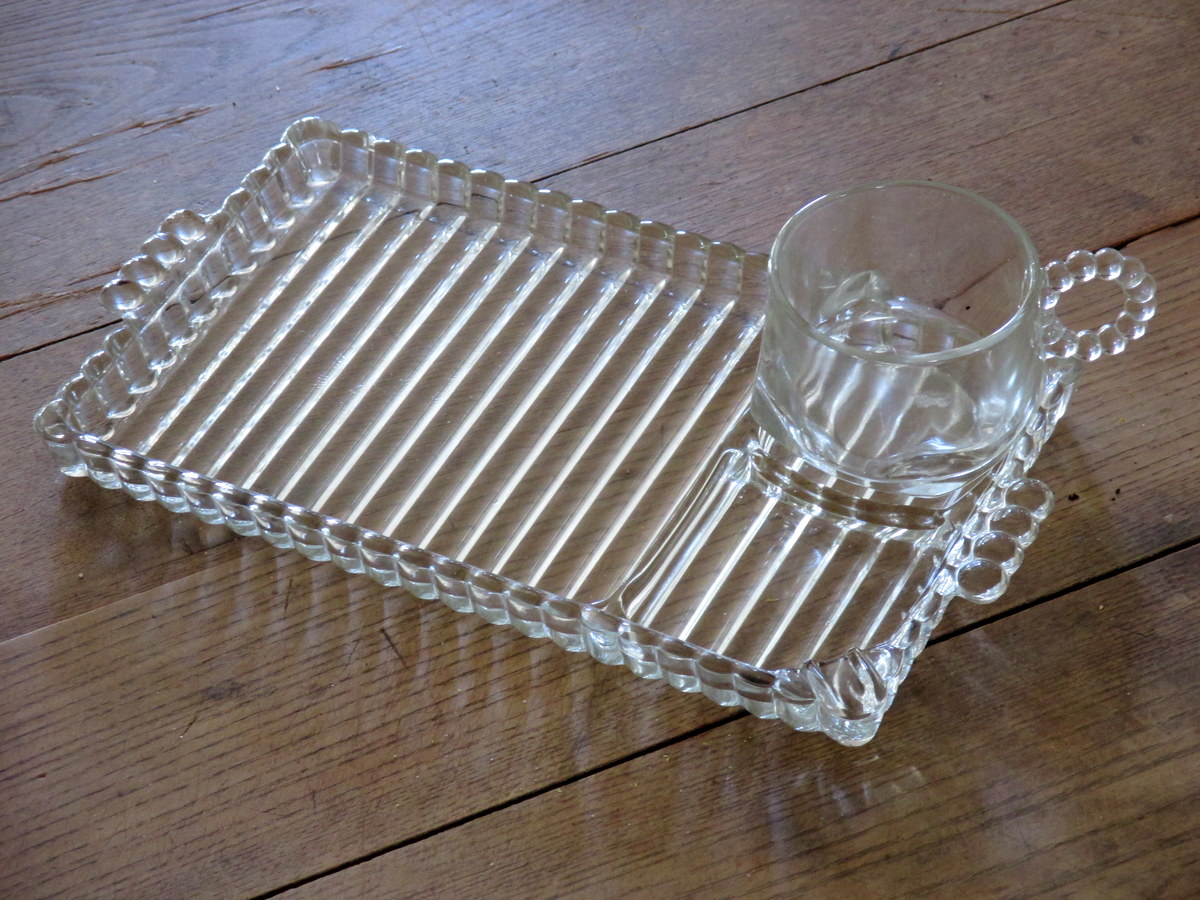 My grandmother used her glass party dishes when she hosted card parties in the afternoon with her "club." This was her special group of church women who met at each others' houses once a month.  They ate snacks, drank punch and coffee, played euchre, and I'm sure had lots to talk about.
I have early memories of card tables set with tablecloths, placed around her living room in preparation for these get-togethers. Children were not invited to these parties, and for a holiday dinner at the kid's table, we would have eaten off regular dishes.
Menus for her club parties would have included small sandwiches and scoops of chicken salad or similar creations. The small cups are for punch. When the time came for coffee, that would switched to china cups and saucers.
After the party was over, the dishes were carefully washed and put back in their original boxes, including the cardboard dividers between each layer.

The late 1940s and 1950s were the heyday of grandma's club parties. Those dishes are probably older than I am.
One day, I might host a party where I use grandma's party dishes. Meanwhile, it's fun to take out a plate and use it once in a while, for a sandwich or a piece of cake.
I keep them in the same boxes, in a safe spot, where I can see them often. They are waiting for a party.
Identifying Grandma's Dishes While Vintage Shopping
I've never seen other original boxes anywhere. I've learned the details of this glassware.
The rectangular party plates have ribs running down the sides and around the back. The handles are beaded. They also have a formed section to hold a cup, and another for a small ashtray.  This glassware was a creation of the food and entertaining style of its time.
The punch cups have beaded handles, round at the rim, square at the foot. This makes them easy to identify when you find a single cup or two in secondary marketplaces.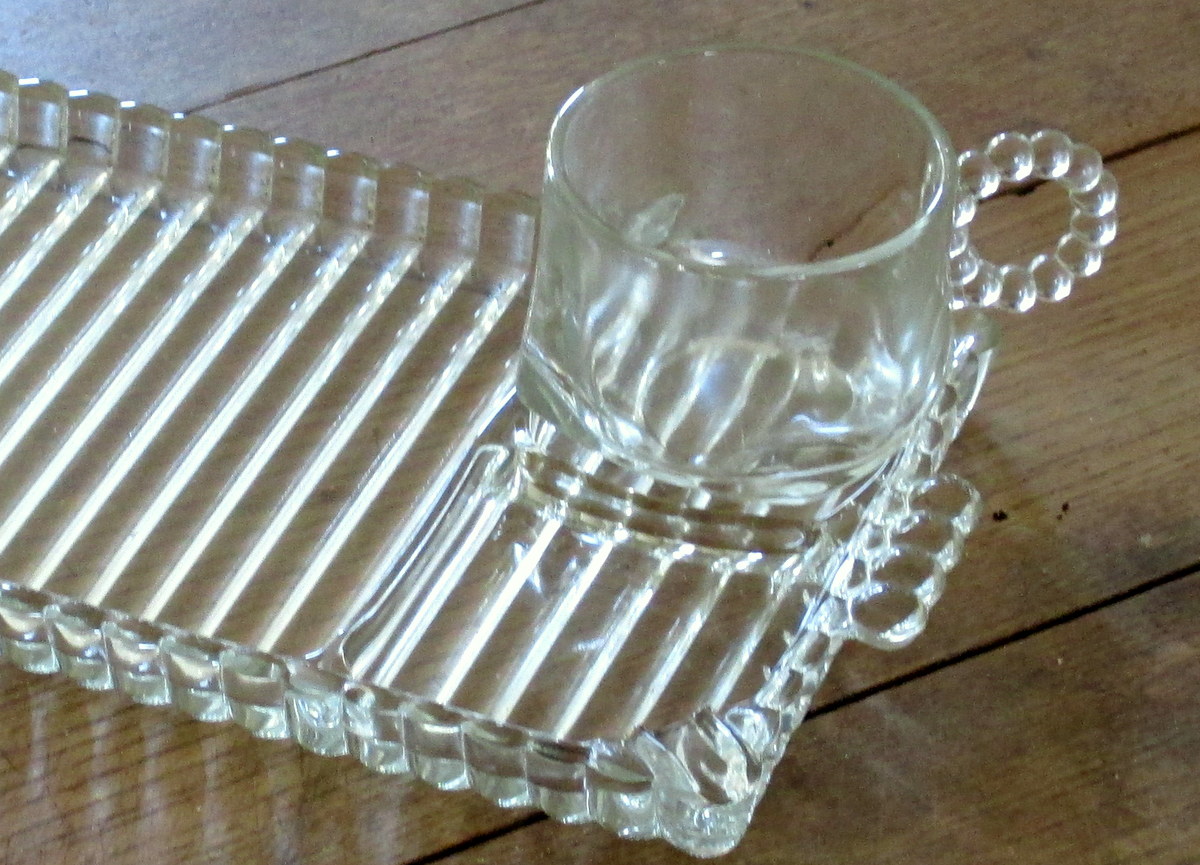 Glassware like this would also have been used for baby or wedding showers, ice cream socials, and anniversary parties - events held at any time of year, but especially in the summertime.
As for the maker, this glassware is often associated with Hazel Atlas, and that may well be so, though I have not found markings on the pieces or the box to determine this. Some research in home and garden magazines from that time period should help me unravel this question.
(Initial research indicates that Orchard Crystal is a product line of Hazel Atlas, and these sets were called Ball and Rib Snack-Sip-Smoke set.)
Dinnerware and glassware of this era did not necessarily have a pattern name assigned by the maker. It could have a shape name, or just a number. Retailers were free to name patterns in their advertising.
This glassware is distinctive for its clarity and weight, for the ashtray molded into one corner, and for the cups, having a round rim and square foot, along with the beaded handles. Once you look for these details, finding more pieces is not difficult.
As with all glassware, I check for chips carefully with my fingers, and look closely for cracks. Any pieces that are dull when dry have probably gone through a dishwasher, unless the dullness rubs off due to "good dirt," the ink dust residue of having been wrapped in old newspapers.
I only buy pieces that are clear and shiny.  I have laid in a supply of replacement cups for this glassware.
You will find other snack or party sets in secondary stores and online. If you're looking to create your own set of party dishes, there are plenty of patterns and you can often find wares produced in the 1960s and 1970s in the original box on a lower shelf.
These snack sets are perfect for a Mad Men theme party, or a retro card party.
Your online research will pull up lots of results when you us search terms like "snack set," "party set" or "luncheon set." Then you can add your favorites to your vintage shopping list.
Older snack sets generally have punch cups. As food styles and fashions have changed, newer products have mugs or bowls to go with the plates. Later snack sets were often intended for soup and sandwich, or coffee and cake.
Yours can work for lots of uses.
Party dishes will help you create your own memories, and family stores to pass on, as you enjoy the charm of vintage party dishes.
I'm eating a sandwich using mine, thinking about those card parties from long ago.




by