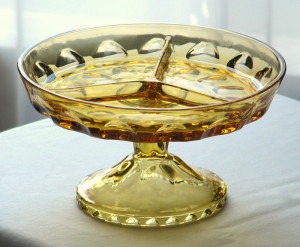 Shiny bright glass, and gold vintage glassware in particular, offers a special opportunity for your Thanksgiving and fall table settings.
Warmer than amber, bright gold glasses and other serving pieces can give extra spark to complement your china.
Finding Vintage Gold Glassware
Check the secondary marketplace. This is a color from the late 1960s to early 1970s, as you may remember if you're in the right age bracket. Remember those Harvest Gold refrigerators and stoves? Cookware was also made in this color.
Learn the patterns and choose the one(s) you like best. Some of the patterns: Georgian, Swedish Modern, Fairfield and Eldorado. Soreno pattern glassware was also made in a bright golden amber.
Check gold and amber in your searching, as different makers sold golden colors using different names.
Be prepared to be flexible. You might wand the tumblers, but can only find the relish dishes, or another serving pieces. If your menu works with the pieces you can get, other pieces can go on your "looking for" list for the future.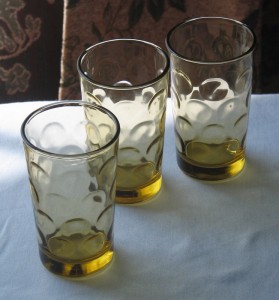 The photo above shows a 3-part tidbit dish in the Georgian pattern by Anchor Hocking (call the color Amber or Topaz). The small juice glasses are the Eldorado Gold pattern by Hazel Atlas.
Many patterns of gold vintage glassware have classic appeal, and once you get started with this rich, warm color, the possibilities to use and enjoy your "new to you" glassware will expand.
A magic pot of gold? May be.




by