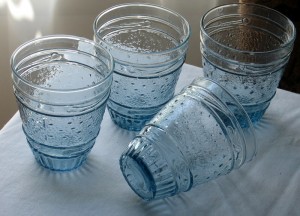 When I'm scouting, choosing between the glassware and the dinnerware can be a tough choice!
Both have so many charms to tempt me, though I often find the china dishes to be easier to work with.
Glass has its challenges, in both identification and condition. I presume that glassware in the secondary marketplace has some kind of condition defect, unless my close inspection proves otherwise. It's easy for a chip or crack to go unnoticed, especially when the surface is textured.
Even so, glass is often worth the challenge.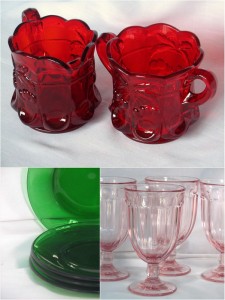 Why I love glassware
Shiny glass is charming; nothing shines like glass! This probably why glass has been desirable since Roman times. During the Dark Ages, some glassmaking techniques were lost, but many were revived during the Renaissance.
Glass manufacturing has changed over time, but its beauty and transparency cannot be duplicated in other materials.
Molten glass can be formed into many, many shapes. Glassware is made in simple utilitarian forms like a plate, all the way up to intricate artworks like those created by Dale Chihuly. So many tableware items are made in glass that they cannot be counted. Tumblers and goblets are very popular, as well as serving items like bowls, salt and pepper shakers, jam jars, and many more.
Color comes alive in glass. Ruby red and cranberry glass include a touch of gold. Cobalt blue is deep and dark. Hunter green is the color of the forest. All these colors have their fans and collectors. Then there are more contemporary colors like aquamarine, avocado green and pink. If you want to add a spark of bright color to your table setting theme, a set of goblets, a glass vase or console bowl can be just the ticket.
Tips when shopping for glass in the secondary market
Condition is a big concern, whether you are looking to use or collect glass. Surface chips can be hard to see, but found by feel. But be careful, because these are often sharp.
Cracks are sometimes found by feel, others are internal and you must look closely to see them. Glass can have internal stress cracks, caused by improper annealing of the finished pieces. (Annealing means allowing the glass pieces to cool slowly by placing them in an oven, to maintain an even pressure across all parts of the piece.)
Bubbles within the glass are not generally considered fatal flaws, as long as they are completely surrounded by glass. If they brake the surface, they are like chips.
Dishwasher haze is a white, milky film that appears all over a glass piece. It disappears when you get it wet, and reappears when the piece dries. This microscopic abrasion of the glass surface by dishwashing products, and is permanent.
Many types and forms of glass will catch your eye. The best ones are those that fulfill your needs for serving food and beverages at home. So many choices among glassware piece types will help you make a great table setting for your next family meal, special party, or other event!
About the photos: Short glass tumblers, made in Spain from recycled glass, purchased at Crate and Barrel more than 10 years ago. New glassware ruby red creamer and sugar in the Cherry Thumbprint pattern, hunter green plates in the Nicole pattern, and pink iced tea goblets in the Arlington pattern, all by Mosser Glass.




by