Now that Easter is over, time to get ready for Mother's Day (second Sunday in May).
By adding some vintage charm to your table setting, you can impress your mother, family and friends with a table setting that is creative and shows off your china to enjoyable effect.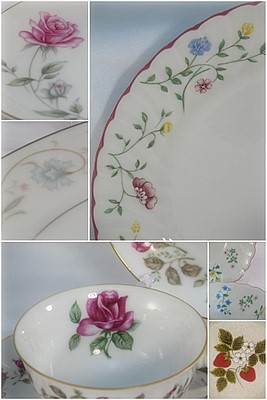 Feature Mom's favorite flower – such as roses, daisies or forget-me-nots – to enhance your dinnerware patterns. There are china patterns galore that feature these specific flowers.
Pick her favorite color – such as pink, blue, yellow or green – and build the table setting around that theme. White china and color serving pieces work well, or the other way around – and white will keep the overall effect light for a springtime meal.
Garden loving Moms will like a table set with china that features bird houses, gardening and garden ornaments. Highlight dinnerware with these motifs by using cloth garden gloves, reflector balls or bird items on the table or in a centerpiece.
If Mom has a special collection, the table setting can highlight her passion. Perhaps its animals – such as pigs, bunnies or chickens. Or the farm or the zoo in general. Dinnerware that features these patterns will make a cute setting for her special day.
Add bright accents in glassware that accentuate the theme, such as ruby red goblets for red flowers, a set of cobalt blue creamer and sugar for blue ones. Or green for a garden theme.
There's still time to get your creative juices flowing. Start with the dishes you have and carefully add selected pieces to make Mother's Day special with a table setting that everyone will enjoy.
And, you'll be ready to apply your mix and match dinnerware ideas to birthdays, anniversaries, showers and weddings all summer long.




by