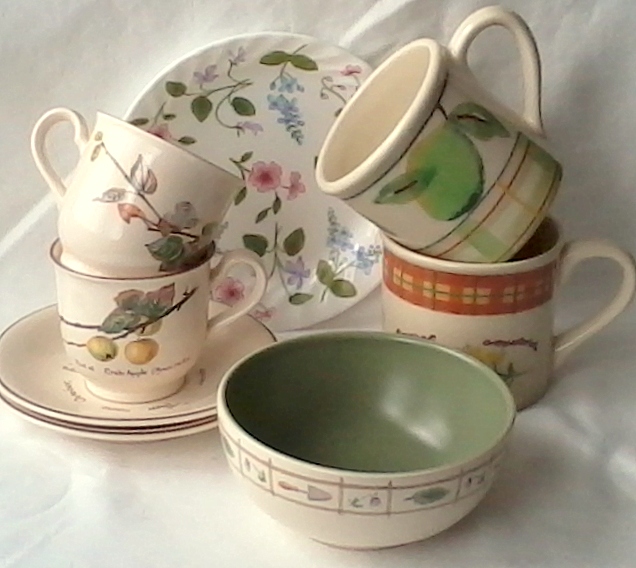 Itchy for green outdoors? Start indoors, with a table setting of garden theme dishes!
Earth Day is on Monday this year.
That makes this weekend an ideal time to bring out the summer-y garden and floral dishes, to satisfy your need to enjoy growing things.
Start with any green dishes or glassware you might already have.
Add on the quantity, or piece types, you need based on how you'll use your dishes, and your menu.
Do you need serving pieces, or just place settings?
All Greens Are Not Created Equal
Most greens can be mixed and matched to create a unique table setting.
I divide the green spectrum into the yellow end, center and blue end, and go for a palette that concentrates in one of those three groups. You can bring in accents from the other two, and see how they work with your overall setting.
A single statement piece, like a soup tureen, or 3-tier server, can have more latitude than, say, the salad plates on a table set for eight. But...rules are made to be broken, too, when you create your own special style!
Remember, too, that monochromatic is generally my taste. If yours is more adventurous, go with yours!
If you're not sure, get some paint chips from the hardware store, and use them to create your portable color palette. Then shop for new dinnerware, or thrift store finds, to make your working dinnerware set.
Earth Day is about recycling. When you use what you have, reuse vintage dishes, and add carefully-chosen new wares to your collection, that will last for years, you're bringing the spirit of the day to your table.
And you can have greenery around you all year long, when you set your table with garden-theme dinnerware.
Dishes shown, front to back: Naturewood cereal bowl by Pfaltzgraff. Country Diary of an Edwardian Lady cups and saucers, vintage Noritake, made in Ireland. Mismatched mugs by Hartstone Pottery made in Ohio. Top is Citrus pattern, and bottom is an unidentified herb and plaid motif pattern from the Carlisle ownership era. Corelle salad plate in the Delicate Array pattern at the back.




by