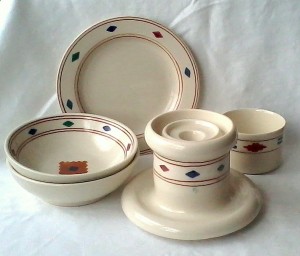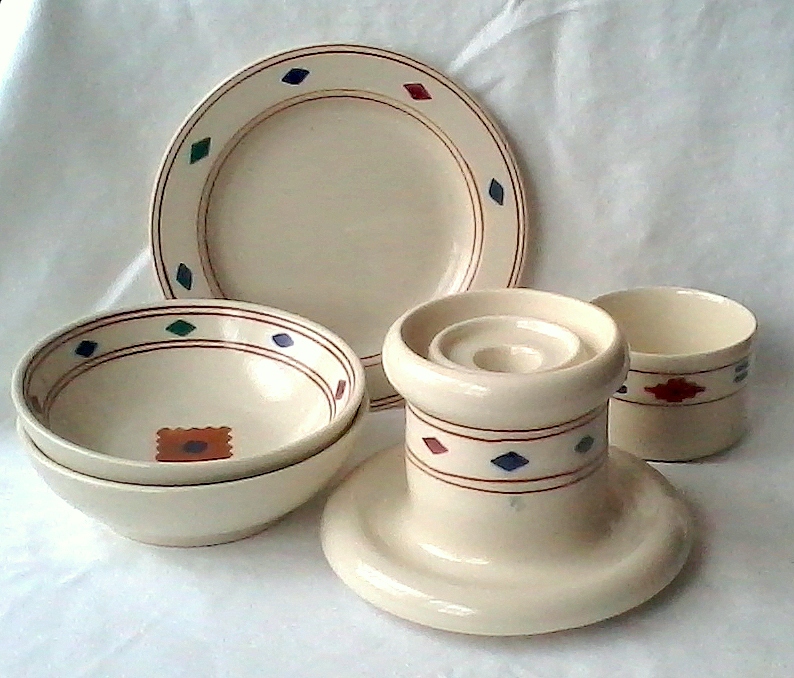 I added a candle holder in the Cheyenne pattern by Hartstone to my collection this week. I was almost jumping when I saw it on the thrift store shelf.
Hartstone Pottery is heavy, durable stoneware, made in the USA. You never know what you will find on a day of thrift store shopping.
I was glad to be able to rescue this piece before they came through with the recycle barrel.
Hartstone markings are not always obvious to those who are not familiar with this dinnerware. I've bought their stoneware for many years now, and I've taken the factory tour. If you're looking for certain wares, your special knowledge will help you spot the special piece types in the crowd on a busy store shelf, in addition to the standard plates, mugs and bowls.
The Cheyenne pattern is discontinued. It was made for about 10 years, ending in 2007, although new pieces of this dinnerware are available from Hartstone via their Limited Production program.
I've been adding to my collection of Hartstone Pottery, via finds in the secondary marketplace. That is, thrift stores, though eBay, Replacements and other avenues are also available.
I was especially happy to find the candle holder. I was not familiar with this piece. It can hold candles in three sizes, and it's heavy enough to prevent tip overs.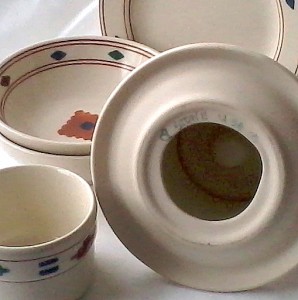 The photo of the candleholder's underside shows the decorator's mark. The more you know about your favorite dinnerware patterns, the easier it will be for you to spot the unusual pieces.
Finding Your Special Dinnerware Pattern And Accessories
Many china dinnerware patterns are marked in some way. When it comes to the accessory pieces, markings become a lot less certain.
Glassware, linens, flatware, metal and other items may have only minimal marks, or not marked at all.
Know the marks that the maker uses, as well as marks used by companies that made the complementary pieces. For example, Libbey might have made the matching glassware to your china or Corelle dinnerware pattern.
Learn what piece types were made. Some dinnerware patterns, such as Yorktowne, Tea Rose or Folk Art by Pfaltzgraff have been made for decades. Piece types come in and out of production. If you know there were table clothes and napkins, for example, you'll be better able to spot them when you're shopping thrift stores, or you can seek them out online.
Get on company mailing lists, and keep product catalogs for dinnerware patterns that you love. If you want to build your collection, the catalogs are often the best source of information to know what products were and were not made. Or you can contact the manufacturer's customer service for assistance.
Most of all, display and use your dinnerware sets. Dinnerware was made to be used.
Whether you have just a set or two, or you are one of those dish lovers who swaps out her kitchen cupboards like some swap out their seasonal clothing, using your dinnerware and complementary pieces is one of the true joys of the dinnerware passion.




by