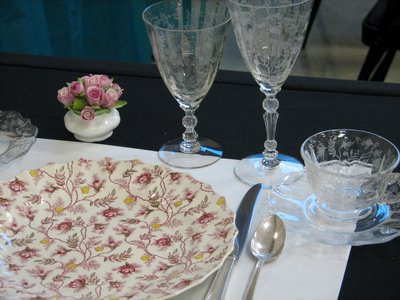 In the third part of our series about the winning table settings created members of the Great Lakes Depression Glass Club, we move on to a setting that combines elegant glass and china.
Mary Dunmire's table setting took third prize, and featured her mother's Fostoria crystal in the Chintz pattern.
Her table setting beautifully combined with china in the Rosebud Chintz pattern by Spode, made to go with the glassware.
Chintz was another beautiful glassware pattern by Fostoria, produced from about 1940 to 1973.
Spode produced this china pattern from the 1950s to about 1971.
Chintz pattersn, in both dinnerware and glassware, are popular among collectors because of their lovely colors and detailed floral designs.
If you're looking for something to use for a Downton Abbey tea party, these are patterns you could consider. Although many of them are more modern that the television story, they convey the right kind of timeless charm for a period-inspired ladies tea.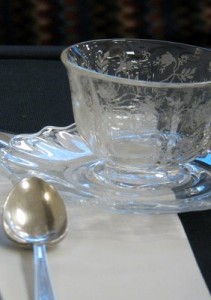 The dainty etched glass lights up china, and the dinnerware makes a colorful yet classic table setting.
And what a great way to remember Mom by continuing to use her glass and china, to celebrate family events and special occasions.
We wrote about the company in our prior post about Fostoria American pattern glass.
Fostoria's glass is an American classic, in any pattern.




by