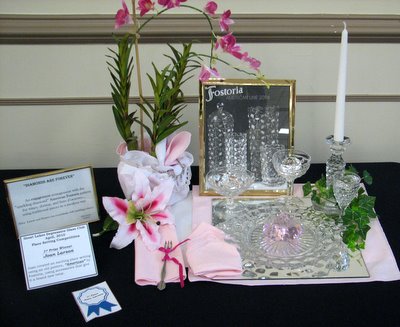 As part of the recent Great Lakes Depression Glass Club show, the members organized a table setting contest. The work of the four winners was on display as part of the club's educational display at the show.
First prize went to an engagement party table setting using the American pattern by club member Joan Larson.
American was a very popular pattern made by Fostoria from about 1915 to the mid-1980s. Most of the pieces were made in crystal clear glass, but also sometimes in colors. The fact that this pattern was made for so long attests to its popularity.
This pattern has a three-dimensional cube or diamond motif, and lends itself to table settings for many occasions. It also coordinates well with lots of Art Deco and more modern dinnerware patterns.
Fostoria was briefly located in Fostoria, Ohio, but moved to Moundsville, W.Va. within a few years. Lancaster Colony took over in the 1970s, and closed the factory in 1983 (although they continued to make a few of the patterns after this point under the Colony name.)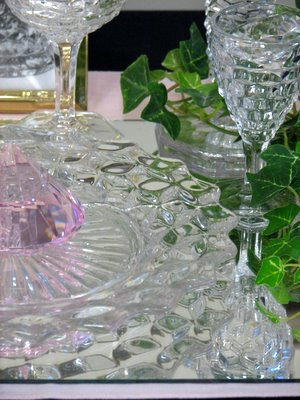 Look for the clarity of the glass, and the polish (no mold lines) to help you distinguish American by Fostoria from the later pattern American Whitehall by Indiana Glass.  If you can compare known pieces of each at the same time, it will help you identify each maker's work.




by