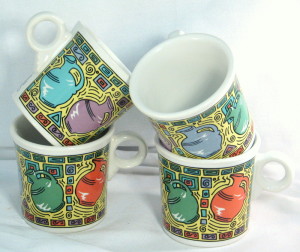 Lovers of Fiesta china color were getting their fix at the Homer Laughlin tent sale this past weekend.
The company holds an annual tent sale at the factory in Newell, West Virginia. Fiesta collectors come from far and near to get pieces in their chosen colors.
Table setting with Fiesta offers thousands of possibilities with more than 12 colors in the "older" Fiesta rainbow and more than 25 in the "newer" color collection.
Peacock blue is one of the newer colors, like the mug I included in this post.
Most of the dinnerware is solid color, though there are examples with patterns, like these coffee mugs in the Dancing Carafes pattern. There is also a Fiesta Holiday pattern with cardinals on white.
New Fiesta Dinnerware place settings are available online and in stores. One of the reasons people love it so much is that you can play with all the rich, bold colors, to make your own unique dinnerware set.
Homer Laughlin had discontinued Fiesta in the early 1970s. Customer demand brought it back in 1986, and it's been going strong ever since. This china is one of the most-collected dinnerware lines in the world.
Fiesta has its own collectors society, to help connect fans with their dishes, and educate them about the product line.
Fiesta china colors are bright and bold. This dinnerware has made for cheery table settings since it was first launched in 1936. The shapes are sleek, yet offer a retro note to your casual table setting.




by