The Farm Fresh dinnerware pattern by Corelle retains its country charm and popularity for casual parties and everyday dining.
Farm Fresh is decorated with red apples, green pears and grapes, and has a green checkerboard motif on many of the pieces. The background is almond beige. Some of the items, such as the bowls, have a simplified version of the motif.
I actively seek this pattern in my scouting for dinnerware. The cups and plates are fairly common. The bowls less so, and the glassware (tumblers and carafe) and bakeware (covered casseroles) are tough to find.
This is a cute pattern to use for a cookout, carry in, or other casual dining event, especially any time you're creating a fruit or farm theme table settings. It coordinates well with my chicken plates and accessories collection, for example.
The checkerboard element says "gingham" and this dinnerware really pops on a red and white checkered tablecloth.
Corelle introduced Farm Fresh about 1997 and made the pattern for 10 years. Corelle also produced vinyl placemats and cloth napkin rings in this pattern, in addition to the dinnerware, glassware and ovenware piece types.
Condition matters with Corelle, for your pieces to look their best.
Watch for dishwasher fade, which appears as a milky haze all over the surface of the piece. It dulls the bright colors. This is caused by microscopic abrasion of the surface of the pieces. Repeated washing in a dishwasher does this, whether you use powdered or liquid products.
Corelle can also suffer "chewed" edges, as though someone scraped a knife along an edge and cut off a piece. It is possible to break this dinnerware, though it is difficult.
Brown rust-colored spots can be removed with a glass cook top cleaning product.
None of these condition issues prevents you from using your dishes, only their appearance.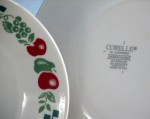 Farm Fresh has fans who continue to add to their sets, years after the pattern was discontinued. Any dinnerware that combines charming design with durability for daily use is a winner.




by