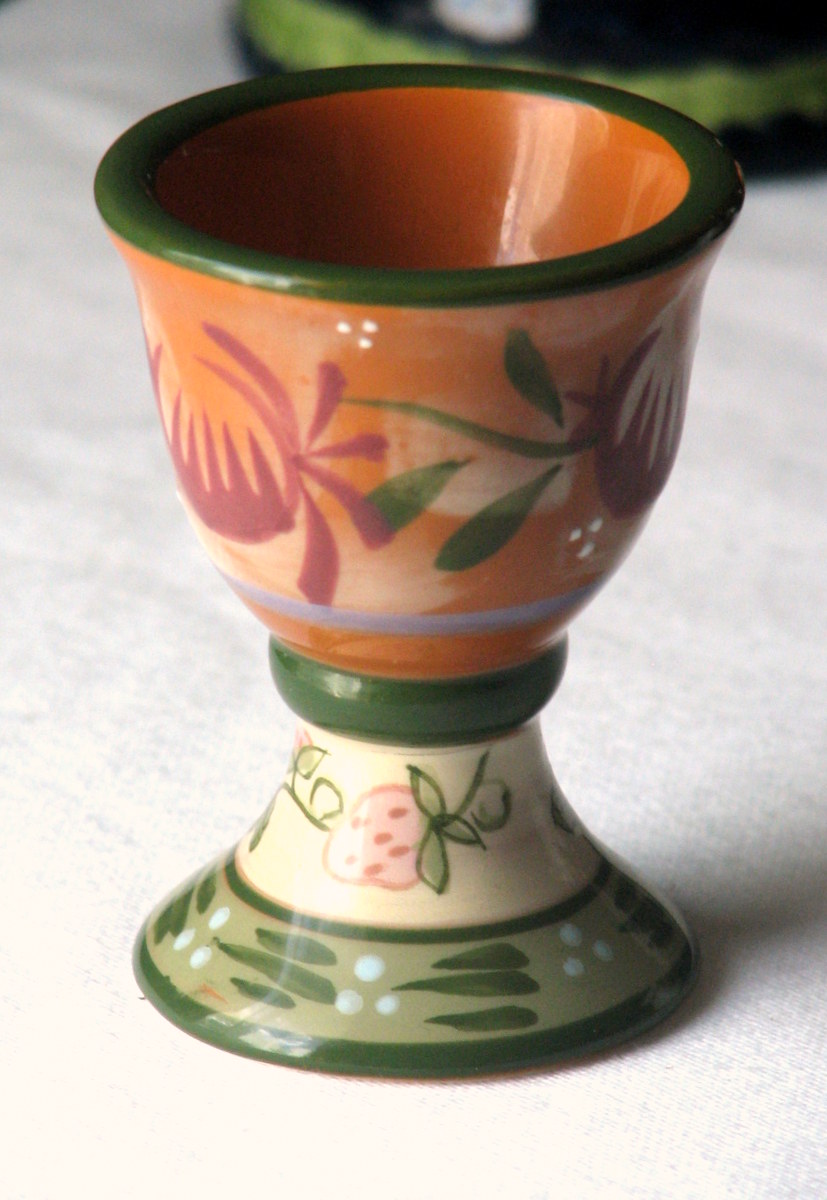 Choose your fall dinnerware colors from a palette of traditional favorites, and you'll easily create a harmonious table setting
For example, just this little egg cup (Chanticleer pattern by Zrike) can provide lots of color inspiration.
Three main colors to draw from as a focal point: a rich, warm terracotta in the brown to orange range, forest green and cozy cream. Then some lovely accent colors: a soft leaf green, dusty maroon, and palest blue.
Dinnerware in earthenware or stoneware, in the same colors, can mix and match to your hearts content. A pretty set of colors with a lot of possibilities!
The rustic and hand painted motifs on this piece can also give ideas for a table setting. Strawberries in the foot can add to a fruit motif theme.
Stylized floral motifs in the cup can add to fall floral elements.
Autumn leaves go with the colors and can complement either flowers or fruits.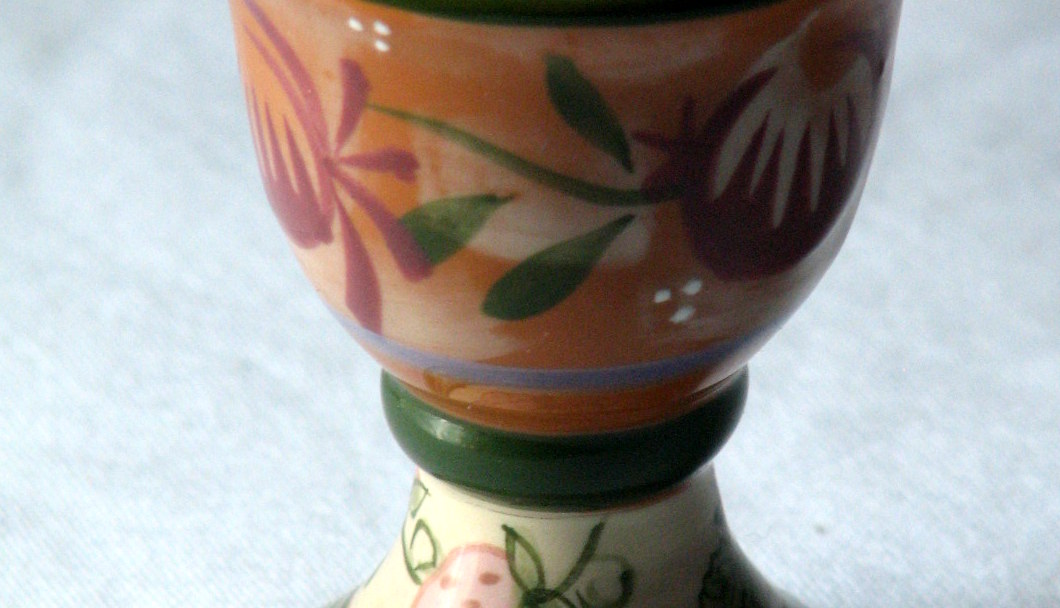 Real flowers in matching or contrasting colors would work well with this table setting palette, too. Flowers such as chrysanthemums, roses, dahlias or strawflowers are widely available in the fall.
Mums bloom in a particularly broad set of beautiful autumn colors, including white, yellow, gold, bronze, orange, rusty red, burgundy, rosy pink, lavender and dark purple. They can be used as potted plants or cut flowers, depending on the event.
Further natural elements like pumpkins, gourds, dried leaves, acorns, pine cones, can be added as well.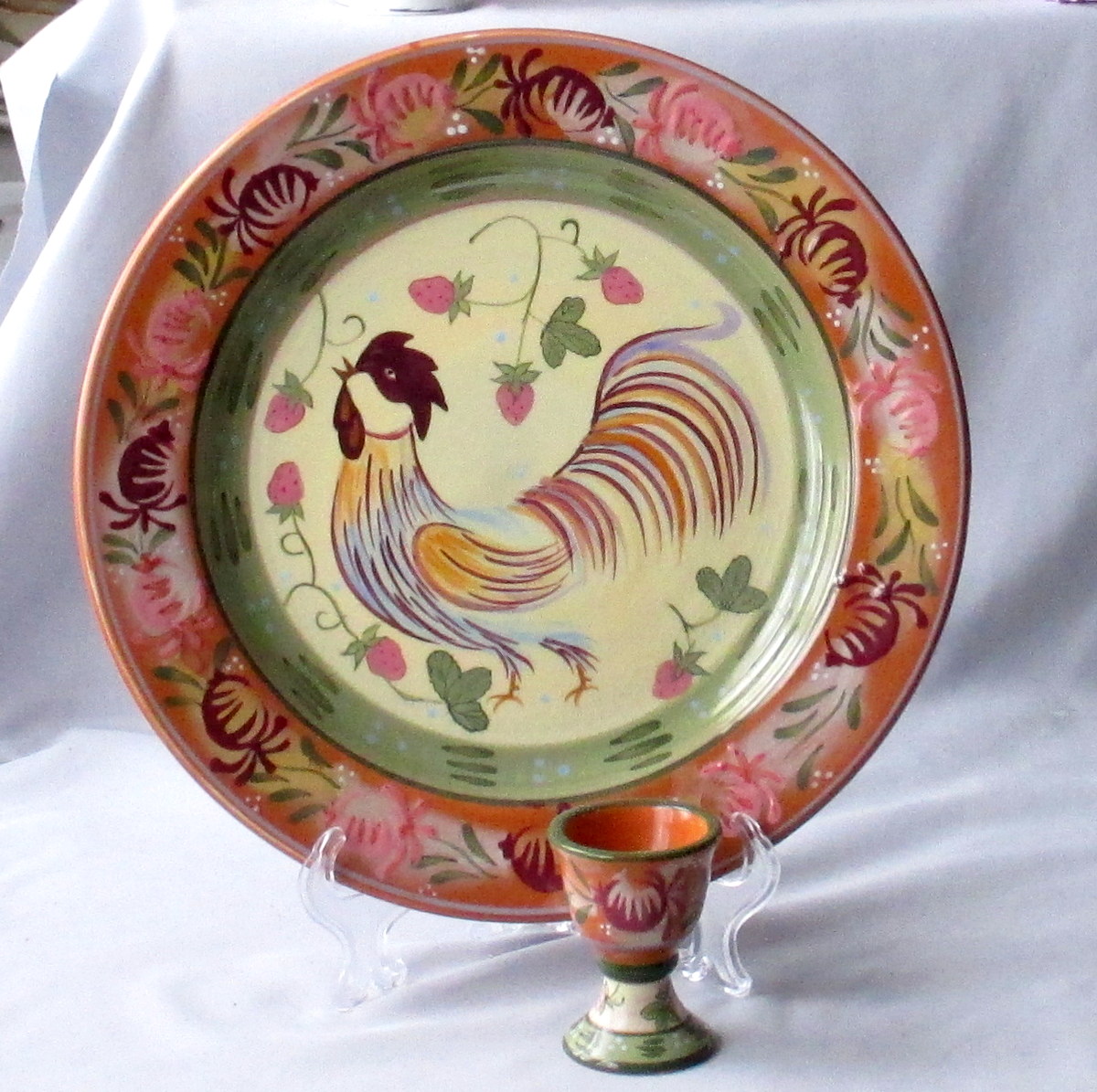 The inspiration for a charming palette of fall dinnerware colors, can come from just one small piece of dinnerware. Start in one place and see how the ideas for your seasonal entertaining can expand.
About the photo: Egg cup purchased at the end of season from the fall dinnerware collection at a major department store, pre-2004.  Danna Cullen designed the Chanticleer pattern, produced by Zrike in the early 2000s.








by