August is high time for fruits we love, and dinnerware patterns that feature these fall fruits are in season all year round.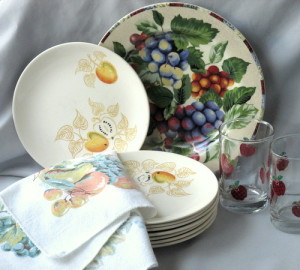 On my list of favorite fruits: apples, peaches, pears, grapes and plums.
Dishes that feature these motifs catch my eye when I'm out scouting for dinnerware and glassware, just as their inspirations are when I visit the farmer's market.
Luscious fruit always looks good on my table, from the foods to the dinnerware.
Classic Colors - Tasty Themes
When I saw this group of vintage bread plates, the "that's mine" bell sounded in my head.
Of course, I had to check out their condition first. But the warm colors and mid-century design vibe were big draws. Fortunately, they had no chips or cracks and I can use them as well as enjoy looking at them.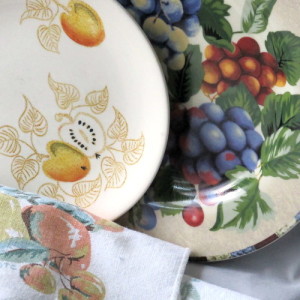 The Golden Apples pattern by Johnson Brothers is discontinued. I researched this dinnerware, and found photos of serving pieces like the sugar bowl and coffee pot, which show shapely, flowing Mid-Century lines.
Based on these shapes, and the stylized nature of the apples and leaves, I'll estimate this dinnerware was made from the mid-1950s to mid-1960s.
Bold and Contemporary Fruit Decor
A salad plate with a favorite design might become your special plate for toast and jam, or English muffins. Or, it can provide a color palate for a table setting, even an entire room.
That's what I thought when I saw the grape-motif salad plate from Sakura's Sonoma pattern.
This dinnerware dates from around 2001 to 2005, a lot more recent than the Johnson Brothers, not quite old enough to be vintage. Sonoma is one of those dinnerware sets where the different pieces have related, complementary decoration.
While I only found one plate (so far), these salad plates were made with four different motifs: apple, grape, grape with plums, and pear. The apple design includes a pear, and the pear plate has an apple.
Still popular today, bold, rich colors make a dramatic focal point for a table setting. This pattern includes traditional fall tones of red and rusty orange, along with deep purples and greens, so there are lots of ways to get creative just with color using pieces of this pattern.
Mix it up with your other apple-theme dinnerware, for example.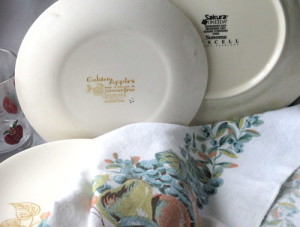 Shopping the secondary marketplaces for this pattern can also let you have it your way. Just collect the pear examples, or one of the others, to make a special pear tart or apple pie serving set, as just one idea.
Charming Accessories Featuring Fruit
When I scan the glassware, colorful pieces catch my eye. They stand out easily among all the clear glass. So these little juice glasses by Anchor Hocking were an easy pick. They can also go with plaid patterns, as well as apples and other fruit motifs.
And then there's the linen napkin. Finding a set of four of these is a treasure! They can be used for a special small gathering. Or, have one or two line a bread basket. And they could also be worked into a centerpiece, to enjoy their vintage look.
Fruit motif dinnerware is on my permanent shopping list for vintage china and glassware. These pieces are fun to add to a creative table setting that everyone can enjoy, for parties and other gatherings.
Let your imagination be your guide!




by