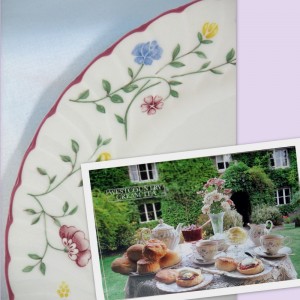 Pretty view: a charming afternoon tea, using Summer Chintz dinnerware by Johnson Brothers.
My sister sent me a postcard from her recent vacation in Cornwall, in the west of Britain. I can see why she chose this card, apart from my interest in tea parties and table settings. The tea table setting features Summer Chintz, my pattern. (Okay, one of my patterns.)
How lovely to see it in a table setting using "my" china, laid out for tea with scones, an ivy-covered English cottage in the background.
And it's no surprise that I'm writing about English china again, as the royal wedding of Prince William and Kate Middleton approaches. People are planning their wedding viewing parties, and looking for ways to bring a bit of England to the occasion.
One way is to use English china, such as the delightful and popular Summer Chintz pattern. It has classic and traditional detail in its shape, not too fussy and not too sleek. Swirl bodies, scalloped edges and graceful handles. The variety of soft colors in the floral motif, on a white background, make it easy to mix and match this dinnerware with other pieces.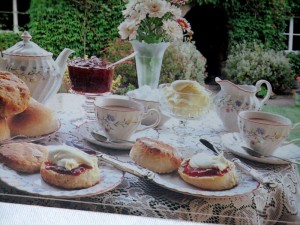 What I also like about the tea setting, as shown in the photo, is how the clotted cream and strawberry jam are served in clear glass pieces. Their traditional shapes harmonize with the dinnerware. Glass sherbets in many shapes and sizes can serve in this eclectic table setting.
Excellent strawberry jam and clotted cream are available in many grocery specialty sections. Also note in the photo, the jam is spread on the scone first, with cream on top.
For an informal tea with one or two guests, a single plate can serve the scones. It's always nice to use two tier servers when the menu and the number of guests require more food for the tea.
Three tier servers allow for all the food to be on the server, leaving plenty of table space for the teapot, cups and saucers, sugar, cream, butter and jam.
Many tier servers match popular and elegant china patterns. These styles of multi-tier server use a central support post with a handle at the top. Another type of server is a metal rack. Any plates of the right size can be used on this model, like the one I saw when my friend and I had tea at Adare Manor in County Limerick, Ireland.
No matter the china and dinnerware you have, or the menu, the time spent having a tea party with family and friends, enjoying a warm cup of comfort, will make the occasion special.
Postcard by Atmosphere Postcards/Croxford




by