Beautiful plates to display and serve your deviled eggs, or colored, hard-boiled Easter eggs, have been available for many years. They're popular in the spring and summer for holiday gatherings and outdoor parties, or any time of year.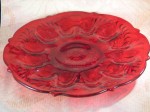 Egg plates come in glass, plastic or ceramic versions. The best ones for you are those suited to the type of egg, and the venue. A fancy one can be used on a festive Christmas table. The plastic ones are for picnics and other outdoor events.
Which ever you use, your family and guests will enjoy the view, and the eating!
Our best tip for when you're taking the deviled eggs, is to take the cut egg halves and the filling separately, then assemble on site.
Make sure to keep everything cool. Put the egg halves in the plate or container. Put the filling in a plastic kitchen bag. Then when you're ready, clip a corner off the bag, twist the rest to control the deviled egg filling and you squeeze a dab into each half. Sprinkle with a bit of paprika, and they're ready to serve.
Your family and friends will enjoy them, they will taste great, look nice, and you'll be a star!




by