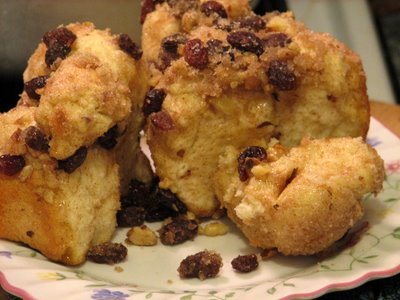 This yeast bread is fun as an introduction to baking, both to make and to eat. Let the butter cool, at the point you are rolling the dough into balls, and the kids can help make this one, too.
Monkey Bread Recipe
Sweet bread recipes like this are also called bubble bread, because you form it into balls before the second rising. When you eat it, the pieces pull apart easily. Fun to make and delicious to eat, for young and old alike.
1 c. milk, scalded
1/2 c. sugar
1 t. salt
2 pkg. yeast
2 eggs, beaten
4 to 4 ½ c. all-purpose flour
1 stick butter
1 c. white sugar
1 T. cinnamon
1/2 c. pecans or raisins (optional)
Mix the first three ingredients above in a saucepan, heat until it begins to simmer, then remove from heat and cool to lukewarm. This step is needed to deactivate enzymes in the milk that will interfere with the yeast. The mixture also needs to cool so as not to kill the yeast.
When mixture has cooled to lukewarm, add the yeast and eggs, then most of the flour. Knead about 10 minutes, until the dough makes a smooth ball and is elastic but not sticky. Add the last cup of flour gradually as you knead, as humidity influences how much flour the dough will take up. Better to add flour repeatedly, a little at a time, than to add too much. The dough should be satiny and stick to itself but not your hands or work surface.
Place dough ball in a large buttered or greased bowl, cover with a clean dish towel and place in a warm place to rise until doubled in bulk, about an hour.
Meanwhile, prepare an angel food cake pan (or Bundt pan with a tube center) by spraying with baking spray, or greasing with butter or shortening. Set aside.
When dough has risen, punch down in the center and let it rest for 10 minutes.
While dough is resting, melt butter in a small pan. Separately, in a wide, shallow bowl, mix the cup of sugar, cinnamon and nuts or raisins if you are using them.
Pull out small pieces of dough and roll them into the size of a walnut, about 1 inch in diameter. Roll in the melted butter, then in the sugar mixture. Place each ball in the prepared cake pan, staggering the rows. When all the dough has been added, cover the cake pan with the dish towel and set again in a warm place to rise for about half an hour, until doubled.
Preheat oven to 350 degrees. Bake for about 45 minutes, until cake tester comes out clean.
Allow bread to cool in pan for about 15 minutes, then use a long knife to loosen the sides. Place a large plate on top and invert the pan over the plate to remove the bread. Serve warm. If bread cools, you can microwave just like you would a roll to reheat it.
Ready, Set, Bake
Learn to bake yeast breads and a wonderful world of baking will be yours to explore. Fantastic bread recipes abound in classic American cooking and many international cuisines as well, waiting for home bakers to explore, in hundreds of sweet or savory versions.
Loaves of all shapes, dinner rolls and pizza crusts and are just a few of the variations that will be ready for a delicious adventure once you learn the basic techniques needed to make this bread.




by