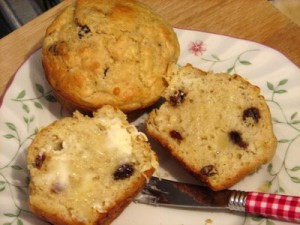 Banana raisin muffins make use of some handy ingredients, widely available all year round.
This recipe, like almost any basic muffin recipe, can be adjusted to make lots of variations. Perhaps you are a nut lover. You can add nuts, or a combination of nuts. Or substitute another dried fruit for raisins, like dried cherries. Or replace the nuts with peanut butter, butterscotch or chocolate chips. As you learn, you will discover the combinations you like best.
Banana Raisin Muffins
Very similar to the Pineapple Raisin Quick Bread Recipe, this simple muffin recipe is tasty for breakfast, snacks or lunches.
1 c. bran cereal (such as All Bran)
1 c. milk
3 T. vegetable oil (such as canola)
1 egg, beaten
1 1/4 c. flour
2 T. sugar
2 T. baking powder
1/4 t. salt
3/4 c. ripe banana, mashed
1/2 c. raisins
1/2 c. chopped walnuts (optional)
Preheat oven to 400 degrees. Mix cereal and milk in a large bowl. Let stand 3 minutes. Add oil and egg. Mix well. Then add banana and raisins. In a separate bowl, combine flour, sugar, baking powder and salt. Mix dry ingredients into wet mixture, until just mixed. Do not over mix. Spoon batter into muffin cups. Fill about 2/3 full. Bake until lightly browned, about 30 minutes. Serve warm. Makes about 12 standard size muffins.
Muffins are so popular that once you become an accomplished baker, you will want to serve them often. Learning to bake can be even more fun when you share the delicious results with family and friends.
As this series continues, we'll get to yeast breads, and serving your baked goods in style...




by